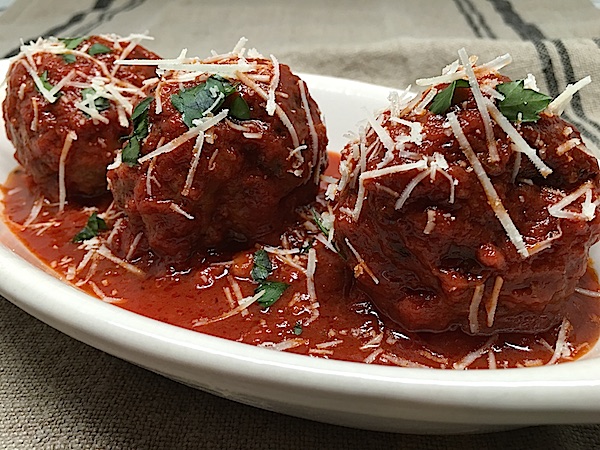 There's just something about meatballs that make them so well loved. For many they bring memories of eating at grandma's house (especially if you're Italian) or dining in your favorite Italian restaurant. For me, it's memories of watching my father make them on Sunday. Every other day the kitchen was my mother's (and my) domain, but on Sunday, my father ruled over making the "Sunday Sauce".
The meatballs were always made with a mixture of ground beef and sausage with lots of parsley, some garlic and a bit of parmesan and shredded bread… then browned in a skillet and added to the tomato sauce. Mine are no different except with these, I stuffed them with fresh mozzarella that oozes out all warm and creamy when you slice them open.  Yummmmm!
Serve with your favorite pasta because these meatballs will add some serious flavor to the tomato sauce (recipe below). Add a green salad and supper is served.
Make a batch even if you don't think you can eat them all. They're very freezer friendly.
Ingredients
1 pound chopped beef (.45kg)
1/2 pound sausage (casing removed)
1 pound fresh mozzarella – cut into pieces about the size of a grape tomato or a walnut
2 – 3 slices of bread (ciabatta is my fav but I use whatever I have in-house) shredded, with crust removed
1/4 cup (59 ml) chopped fresh flat-leafed parsley
1/4 cup grated parmesan
2 medium cloves garlic – finely chopped
1 egg (optional but helps to hold the meat together)
Season (but go easy with the salt…sausage and parmesan are already salty)
Flour for dredging
Recipe for tomato sauce (see below)
Instruction
Add all the ingredients (except the mozzarella) in a large bowl and mix well
Form them into balls (whatever size you like but something in-between a golf ball and a tennis ball works well)
Stuff them with the mozzarella and roll again.
In the meantime, heat a skillet over medium heat and add enough olive or canola oil to lightly cover the bottom of the pan
Dredge the meatballs in flour and add to the hot oil. Work in batches and turn until all sides are browned (about a minute or less on each side).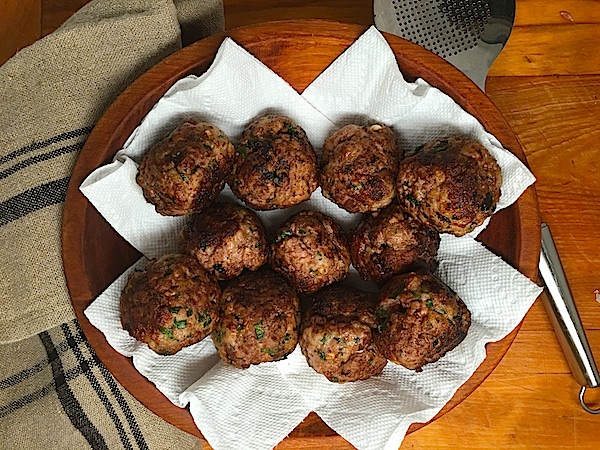 Remove from the oil and set aside on paper towel.
When all are browned, add to the tomato sauce
Tomato Sauce
1 can crushed tomatoes (one with no added garlic or herbs) *
2 tablespoons olive oil (or enough to just cover the bottom of the pan
1 medium shallot (or 1/4 sweet onion) – finely chopped
1 clove fresh garlic–finely chopped
Pinch of crushed red pepper flakes
1 sprig of fresh basil (one with multiple attached leaves) or parsley
Salt and pepper to taste
Instruction
In a medium saucepan over medium heat add oil and heat until hot but not smoking. Add onions and cook for about 2 minutes or just until softened.
Add garlic and pepper flakes and cook for about 30 seconds or until golden. Follow quickly with the tomatoes which will prevent the garlic from burning. Add the basil (stems and all), lower the heat and simmer for at least 30 minutes until the sauce is cooked (no raw tomato taste) and sweet.
Remove the mushy, browned basil (which is why we add it stems and all) and set sauce aside until ready to use. If the sauce is too thick, add a bit a water and check your seasonings.
Any questions or comments? Leave them below. I'd love to hear from you!
Click here more great meatball recipes