Growing up, I thought polenta was strictly an Italian peasant dish. Later, I discovered that it was the darling of chic restaurants everywhere. But it's just cornmeal, a common staple of nearly every ethnic group across the globe from Africa to Asia, Europe to South America and the American South (where it's used to make grits).
It's popularity is understandable because cornmeal is filling, rich in dietary fiber and iron, naturally gluten-free, and unlimited in it's versatility. It molds to the shape of its container, so you can cut it into any shape you like and then heat it up on the grill or in a frying pan.
I cut mine into triangles and pan fried it so that the polenta was crisp on the outside and soft and creamy on the inside … incredible! Serve it with vegetables or with any sauce you like but this quick sauté of mushrooms and fresh tomatoes was amazing.
Polenta With Sautéed Mushrooms & Tomatoes
Serves 8 as an appetizer
Ingredients for the Polenta
1 cup cornmeal (coarse or fine; yellow or white)
4 cups boiling water
2 pats butter (optional)
1/4 cup grated cheese (optional)
1 tablespoon coarsely chopped Italian flat leaf parsley
Salt and pepper to taste
1/4 cup of your favorite oil for pan frying (not necessary if you plan to grill or serve soft)
2 tablespoons of chopped flat-leaf Italian parsley
Handful of GF (or regular) flour for dredging.
Ingredients for the Sauce
1 pint of cherry (or grape) tomatoes, halved
1 pint of crimini mushrooms, quartered
1 medium garlic clove, finely chopped
4 tablespoons of extra virgin olive oil
4 tablespoons of broth (vegetable or chicken)
2 large basil leaves, torn for garnish
Salt and pepper to taste
Instructions for the polenta
Cook cornmeal according to package instructions.
If you want to serve it soft, you can stop here, season with salt, pepper, add fresh herbs and/or butter and cheese and top with the sauce. (Instructions for sauce are below.) Sorry, I didn't take a picture of this but it's cooked in a saucepan, like oatmeal and can be served soft, right from the pan. If you refrigerate it, it will turn firm when it gets cold and mold to the shape of the container.
I Coated an 8 x 8 pan with oil (or cooking spray ) and filled it with the cornmeal, distributed evenly and smoothed the top.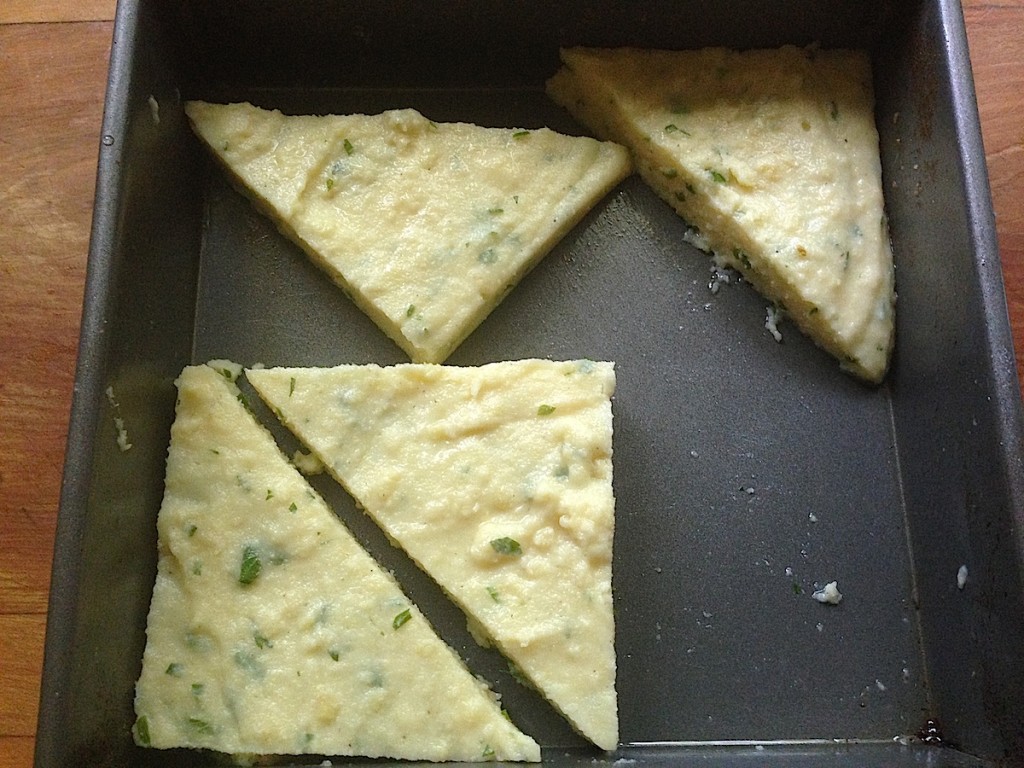 Refrigerate overnight to set. And then I cut 4 squared and 8 triangles
When ready to pay fry, place a small skillet over med/high heat, add oil and heat until hot but not smoking
Cut the cornmeal into desired shape, dredge in flour (helps to dry it up and adds a nice crust) and add to the hot oil. Cook one or two at a time.
Cook for about three minutes on each side or until golden and crispy.
Drain on paper towels.
Instructions for the sauce
Place a medium skillet over medium heat. Add oil and heat.
Add mushroom and cook for about five minutes until golden, stirring only occasionally.
Add garlic and cook for about 30 seconds, just until it begins to color and follow quickly with the tomatoes.
Cook for about two minutes or just until tomatoes begin to wilt.
Add the broth, and cook for about a minute, until the flavors blend.
Season with salt and pepper
Spoon over each piece of the polenta. Garnish with fresh basil.
As featured on Mind Body Green
And now over to you. Do you like this recipe? Ever make polenta before? Are you inspired to try this?