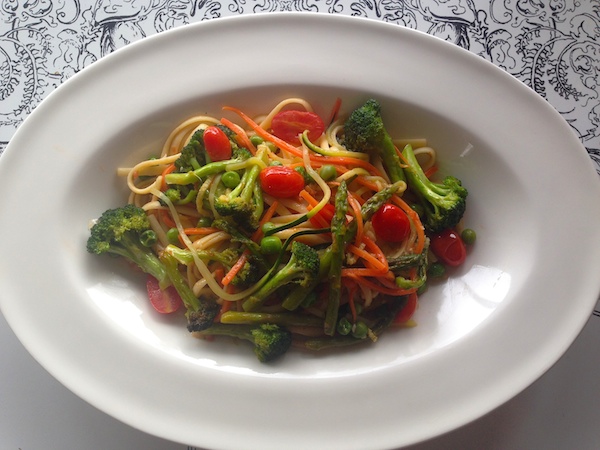 There's nothing like springtime to get me thinking about pasta primavera.
I had pasta primavera on my restaurant menu for years, and it was a customer favorite. The choice of pasta is up to you, but what I've found interesting about this version is that I julienne the zucchini and carrots with a julienne peeler (or you can shred it if you don't have this handy tool) and folded them in with the linguine. This allows you to use as little or as much pasta as you like and gives you the best of both worlds.
The vegetables that take the longest to cook (the broccoli) goes into the pan first, followed by the next densest vegetable and so on. The sauce is made from the juices created in the saute pan so this is a great trick to learn because you can make a wonderful sauce with anything you're sauteing.
One-Pan Pasta Primavera (Vegan, Gluten-free!)
Place the pan over medium/high heat, add oil and heat. Add the more firm veggies: broccoli (cook for a minute) followed by the asparagus (and cook that for a minute) and then carrots. If they had been cut in bigger pieces, (or the asparagus had been thick) you would have had to parboil them first because they would still be too firm by the time you finished cooking this dish. This is really an exercise in how each veggie looks and feels to determine how long each needs to cook before adding the next. Make sense?
Add the garlic and the pepper flakes.  Cook for a few moments then follow with the less dense veggies: zucchini and tomatoes, and follow with the peas.
Now it's time to make the roux – just a fancy way of saying to thicken the sauce. So I added a tablespoon or two of flour and stirred it into the pan juices.
Then I added a splash of wine (optional) and chicken broth (or you can use vegetable). I also add a couple of tablespoons of tomato sauce because I had some on hand. This gives it extra flavor a a richer color.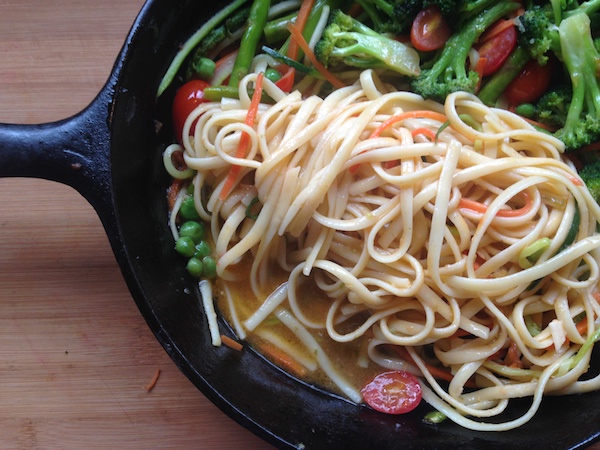 Then I pushed the larger veggies to one side and did my best to keep the stringy carrots and zucchini to the other side, and added the linguine. I tossed the pasta, zucchini and carrots in the sauce and got my plates ready.
Doesn't this look great in an of itself? I loved the look (and taste – I sneaked a bite) of the strings of linguine mixed in with the strings of carrots and zucchini.
And then…topped it with the remaining veggies. Simply delicious!
Ingredients
(serves 2)
1/2 lb (.228 kg) gluten-free linguine or a pasta of your choice
10-12 small broccoli spears
10-12 (med/thin) asparagus spears
10-12 grape tomatoes, cut in half
1/2 cup (113.4 g) baby peas
1 small zucchini julienne (or shredded)
1 large carrot julienne (or shredded)
1 small clove garlic, finely chopped
pinch of red pepper flakes (for a little heat)
1/4 cup (62.5 ml) extra-virgin olive oil
1/2 cup (125 ml) vegetable (or chicken) broth
Splash of white wine
2 Tbsp (28.4g) gluten-free rice flour (or flour of your choice)
2-3 Tbsp. tomato sauce (or 1 Tbsp. tomato paste)
Instructions
Cook pasta in rapidly boiling, salted water according to package directions.
Drain when done being careful not to overcook. It should be cooked but still quite firm to the bite.
Place a large saute pan over medium-high heat. Add olive oil until hot but not smoking.
Add broccoli and cook for a minute. Follow with asparagus and cook for a minute more.
Add carrots, stir, and then add the garlic and pepper flakes. Cook just until garlic begins to brown and add the tomatoes, zucchini and peas.
Move vegetables to the side of the pan. Add flour to the liquid in the pan, stir into a paste and cook for a few moments. (If using tomato paste, add it now.)
Add the broth slowly and stir to incorporate with the paste. Add the tomato sauce, if using, stir, and blend with the vegetables.
Season with salt and pepper and let it cook for 2 or 3 more minutes or until the broth has reduced, is slightly thickened, and the broccoli and asparagus are still bright green and slightly underdone.
Move the broccoli and asparagus to the side of the pan (or remove them from the pan).
Add the cooked pasta to the liquid part of the sauce and stir with the zucchini, carrots (and any peas that are there).
Add the pasta to individual plates or to a serving dish. Top with the remaining vegetables and serve!
Do you like this dish? Tell me why.
Can you think of ways on how you can make this your own? I want to know.
Leave a comment below.