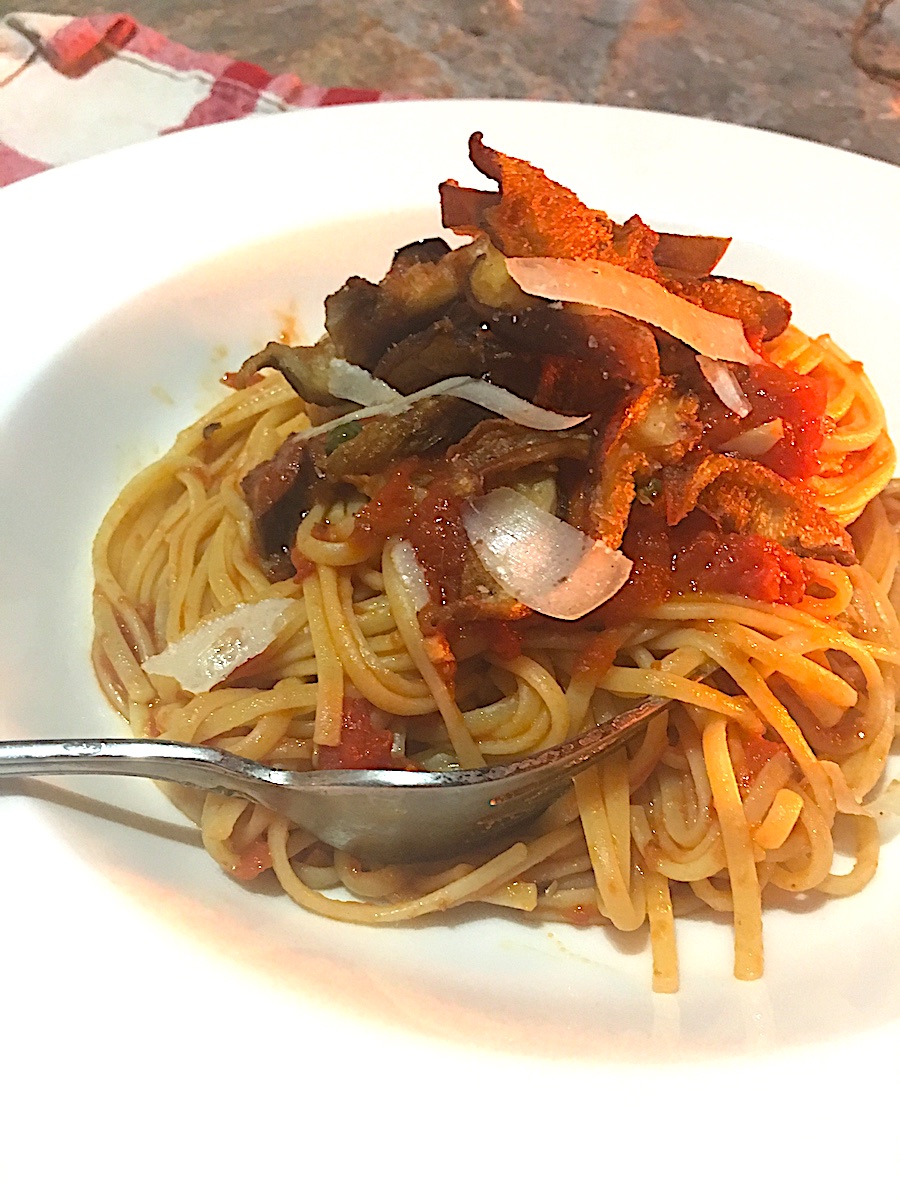 When I made this I hadn't had a plate of pasta since I ate linguine with clam sauce on Christmas Eve. I had such an urge for my favorite sauce which is made with simple ingredients I usually always have in the house: canned tomatoes, anchovies, kalamata olives, capers and pasta! However, since I also had shiitake mushrooms, I pan fried them until crispy and topped my pasta with them.
The story behind puttanesca is that in Naples, Italy during WWII, "ladies of the night" where only allowed to shop for their groceries at the end of the day when the more respectable patrons were done. So when these ladies shopped very little was left except for canned and jarred food so they came up with this tasty dish that went onto become a classic.
And it can be made in minutes, especially if you have ready made sauce in your fridge or pantry.
Ingredients
1 lb. pasta of your choice (.45 Kg)
2 cups (.47 litres) tomato sauce: See easy recipe here
3 – 4 filets of anchovies – chopped
A small handful (or to taste) of kalamata olives – pits removed and rough chopped
1 or two spoonfuls of capers – or to taste
1 clove garlic – finely chopped
4 ounces (113 g) of shiitake mushrooms (or more) – sliced
Olive oil to lightly cover the bottom of the pan
Garnish with slivers of parmesan and chopped fresh parsley
Instructions
Place a medium saute pan over medium/high heat. Add oil and heat until hot but not smoking. Add mushrooms (being careful not to over crowd) and cook until crispy, about 3 to 4 minutes. Remove from the pan with a slotted spoon and set aside into a bowl and salt.
Add a bit more oil to the pan, lower the heat to medium, add the anchovies, the garlic and pepper flakes. Cook for about 30 seconds util garlic begins to color and follow quickly with the tomato sauce. Add the olives and capers, stir. Lower heat to very low to keep warm while the pasta is cooking.
Cook pasta according to directions on the box, drain and toss with the sauce. Top with the mushrooms and garnish with parsley and parmesan if desired.
I enjoyed every bite while sitting in front of a fire….heavenly!