It's almost as easy as opening a jar, but infinitely better tasting – and cheaper too!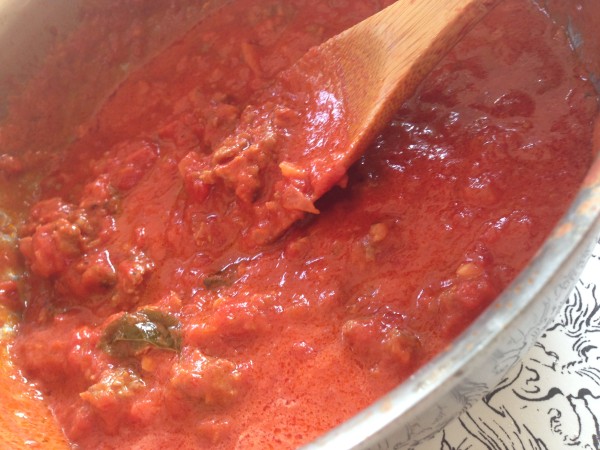 Recipe for tomato or marinara sauce. On this site I use both names interchangeably. 
1 can crushed tomatoes (one with no added garlic or herbs) *
2 tablespoons olive oil (or enough to just cover the bottom of the pan
1 medium shallot (or 1/4 sweet onion) – finely chopped
1 clove fresh garlic–finely chopped
Pinch of crushed red pepper flakes
1 sprig of fresh basil (one with multiple attached leaves) or parsley
Salt and pepper to taste
In a medium saucepan over medium heat add oil and heat until hot but not smoking. Add onions and cook for about 2 minutes or just until softened.
Add garlic and pepper flakes and cook for about 30 seconds or until golden. Follow quickly with the tomatoes which will prevent the garlic from burning. Add the basil (stems and all), lower the heat and simmer for at least 30 minutes until the sauce is cooked (no raw tomato taste) and sweet.
Remove the mushy, browned basil (which is why we add it stems and all) and set aside until ready to use. If the sauce is too thick, add a bit a water and check your seasonings.
*Note: Experiment with different brands of crushed tomatoes. Try ones that have no added puree, garlic or herbs. These will change the taste of purely delicious tomatoes. Or use whole peeled tomatoes for a sauce that not as smooth as crushed but has little filets of tomatoes and tends to be lighter. But be sure to crush the tomatoes with your hands and not in a food processor since this will change the color (turning it from red to orange) and I believe the taste.
Use this sauce in every dish that calls for a tomato sauce. Use it over pasta of course or make it in a large sauté pan and use it as the foundation for poaching a filet of fish, shrimp, chicken, or other meat or even eggs and you have a low fat, delicious dish that is so satisfying and always open to variations.