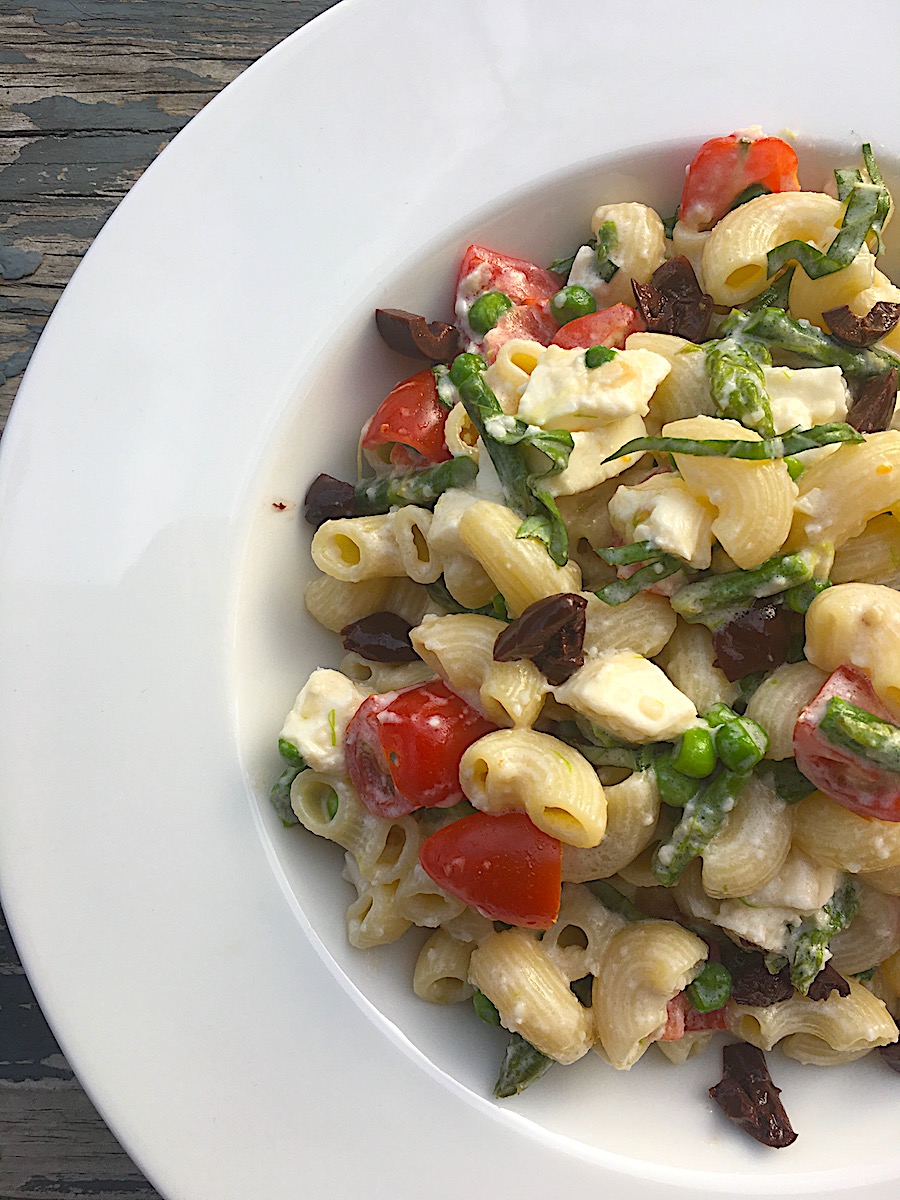 Pasta Salad Mediterranean Style
What's the major difference between pasta salad and macaroni salad you buy from the deli counter? Lots of things really, but the main difference is that the deli version is nothing more than pasta (usually elbow macaroni) with lots of mayonnaise   Pasta salad on the other hand has far less mayonnaise and lots of other ingredients mixed in with the pasta. The pasta itself can vary to use lots of various cuts of pasta. One of my favorite is tubettini a small rectangular tube shaped pasta that leads itself perfectly to use in a salad simply because its light and doesn't overwhelm the other ingredients.
In this salad pictured here, the pasta is a cross between the usual elbow and tubettini to form this hollow shaped tube called……. It's slightly heavier than tubettini but lighter than elbow and in this case a perfect match to the kalamata olives, fresh mozzarella, peas, asparagus and tomatoes that are typical ingredients in a mediterranean style pasta salad.
But regardless of what pasta shape I happen to use or what veggies or cheese I add…for all of those are variable…the one thing that rarely varies is the dressing. It almost always 1 part mayonnaise to 1 part garlic and oil. This lightens up the heavy mayonnaise while retaining the creaminess and mixing it in with the irresistible flavor of sautéed garlic and extra virgin olive oil.
I'll be making lots of various pasta salads throughout this spring and summer using it as a foundation for lots of great veggies as they come into season. Here's the recipe for the first of 2017…
Ingredients
1 lb pasta
6 to 12 stalks fresh asparagus – steamed, roasted or sautéed and cut into bite sized pieces
1/2 cup fresh mozzarella – diced
1/2 cup frozen baby peas – steamed
12 or so grape tomatoes – quarters
12 or so kalamata olives – quartered
3 – 4 large basil leaves – slivered
Sprinkle of parmesan cheese – to taste
Salt and pepper – to taste
Sauce
1 large garlic clove – finely chopped
1/2 cup extra virgin olive oil
1/2 cup mayonnaise
Instruction
Cook pasta according to package direction. Make sure it's al dente (cooked but still has a firm bite) by checking the pasta a minute or so before the package time. Drain. Place in a bowl and add all the other ingredients except basil. Season lightly with salt and pepper.
In the meantime, make the sauce by placing a medium skillet over medium high heat. Add the oil and heat until hot but not smoking. Add garlic and cook just until it begins to color (about 30 seconds or so). Remove from the heat and set aside for a moment. Add the mayo to a small mixing bowl, slowly add the oil to the mayo and whisk to incorporate. Add, a bit at a time to the pasta in the larger bowl, until it coats the pasta the way you like it.  I like it moist but not too mayonnaise y or oily. Stir, chill for about an hour, check seasoning and sauce. Add more if needed. Top with basil and a bit more parmesan if desired and serve.
Great dish to make ahead.