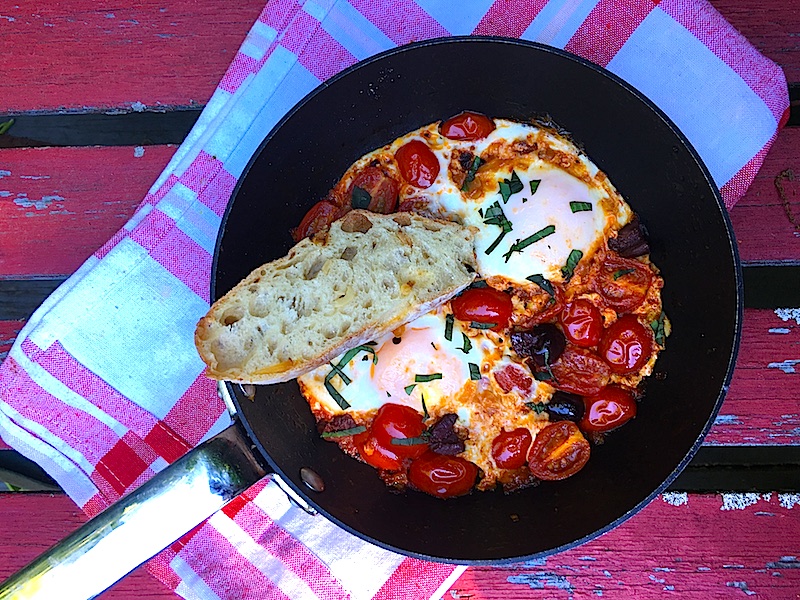 Eggs poached in tomato sauce is a fast, easy and delicious way to serve eggs and many cuisines have their version on this flavorful dish. There's something about the eggs mixing in with tomatoes that makes this a favorite almost everywhere. I certainly had my fair share of this growing up. But not only is it delicious…especially with a chuck of fresh rustic bread to lap up the tomatoes and the soft yoke, but you can whip it up in mere minutes.
Technically this is more like a fried egg rather than poached but since the liquid in this is the juice from the tomatoes and the broth…I think it's somewhere between the two.
I decided to kick this classic up a notch by making the sauce of of fresh diced grape tomatoes, and some kalamata olives…adding a  rich salty contrast to the sweetness of the tomatoes.
After you make this once…I guarantee you'll want to make it again and again, and you'll soon have your favorite way of making this…and you won't need a recipe…the best way to cook!
Ingredients
2 eggs per person
1 cup of grape tomatoes – per person – cut in half (or you can do a medium dice of cherry or other fresh tomatoes)
4-5 kalamata olives – per person – halved (optional)
1 – 2 tablespoon extra virgin olive oil – or enough to cover the bottom of the pan
A splash of chicken or vegetable broth
1 small fresh garlic clove – finely chopped
Season with salt and pepper
Finish with slivered basil
Instruction
Place a skillet (non-stick preferable) over medium heat. Add a bit of olive oil on the bottom of the pan and heat until hot but not smoking. Add the garlic, followed quickly by the tomatoes and let them cook until they begin to soften, about a minute or so. Add a splash or two of broth (keeps the sauce from drying out and give you more liquid in which to poach the eggs).
Add the eggs, and the olives, cover and let the eggs cook until the whites are opaque and the yokes are cooked but still soft (or however you like them). About 2 minutes or so.
Season and finish with slivered basil.
Enjoy! I did…see!