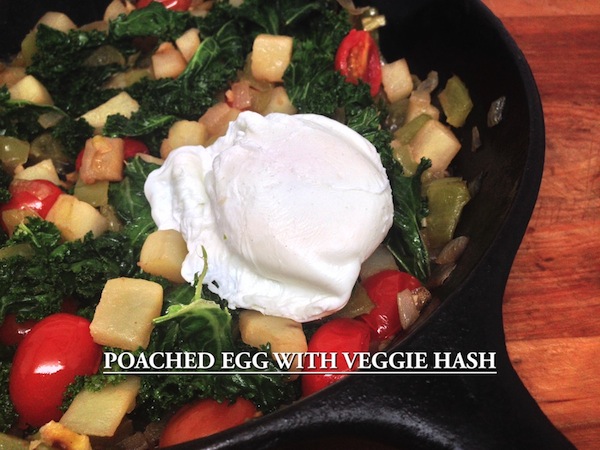 Eggs are not just for breakfast or brunch…especially when they top a delicious, nutrient rich sautéed hash like this one. Go ahead, serve them for dinner. Change up the mix of veggies if you like. The possibilities are endless. With this dish…what to make for dinner just got a whole lot more expansive.
The hash for this dish is enough for four poached eggs and will serve anywhere from 2 to 4 people. You're going to love how the yolks spread over the veggies when you slice into them. Heavenly delicious!
Ingredients
2 – 4 eggs
3 -4 kale stems (washed, dried, leafy greens torn from the stem)
1 medium potato – medium dice
!/2 onion – medium dice
5 – 6 grape tomatoes – medium dice
1 red bell pepper – medium dice
3 – 4 tablespoons olive oil – or just enough to cover the bottom of the pan
2 – 3 thin slices of fresh ginger root (skin removed and finely chopped)
1 medium garlic clove (skin removed and finely chopped)
Pinch of crushed red pepper flakes (optional)
Seasoned with salt and pepper
Splash of white distilled vinegar (for the poaching water)
Instructions
Place a medium saute pan over medium heat and heat until hot but not smoking
Add the potatoes, peppers and onions, season, stir and cook just until they begin to soften (about 5 minutes)
Add garlic and ginger and cook just until they begin to color (about 30 seconds)
Add kale and tomatoes and cook just until the kale begins to wilt (about a minute or two).
Season and remove from the heat
Place a saucepan with about a quart or so (about 1000 ml) of water to boil over medium/high heat.
Add a pinch of salt and a splash of vinegar (the vinegar helps keep the whites of the eggs firm)
Break each egg into a separate bowl to prepare them to be dropped into the water and set your timer to 3 minutes
When the water comes to a boil, stir it with your spoon to create a whirlpool and drop each egg into the center (no more than 2 eggs at a time) and continue stirring for a few moments. This helps the white to stay together instead of dispersing throughout the water.
When your timer goes off, remove the eggs with a slotted spoon and place on paper towel to soak up the moisture. Repeat if necessary with more eggs.
Spoon hash on individual plates and top with the eggs.
Note: This may take a bit of practice but once you get the hang of it, it's easy!
What do you all think? Are you going to give this a try?