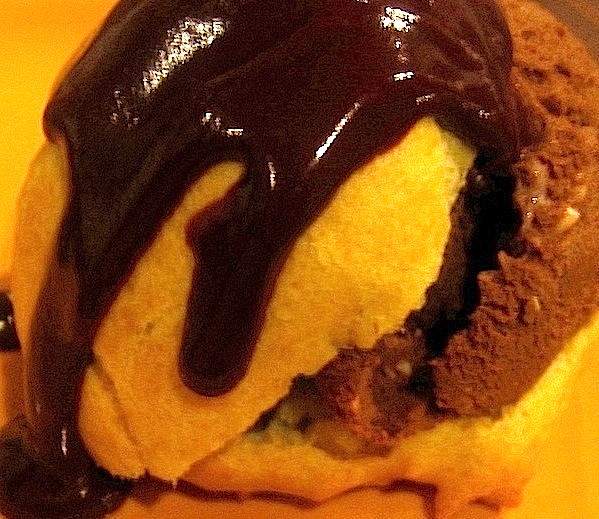 I don't make many desserts, but the ones I make, I make a lot. I love using this recipe in my cooking classes because it's impressive but so easy to make and it's perfect when you need to make a dessert for a lot of people that they can make themselves and be wowed by.
(makes 12)
1 cup water
½ cup butter
1 cup flour
4 eggs
4 scoops vanilla ice cream
In a saucepan add water and butter and bring to a rolling boil. Add flour all at once to water. Stir with a wooden spoon, until all is combined and the flour forms a smooth paste and easily removes from the sides of the pan (about a minute). Let cool and then add and mix in the eggs, one at a time until all the eggs are used. the dough will be thick and shiny. Drop by rounded spoonful onto a lightly greased cookie sheet and bake in a preheated 400 degree hours for about 40-45 minutes depending on the size of the puffs. They are ready when golden and firm. Cool, cut top and fill with your favorite ice cream and top with chocolate sauce.
Chocolate Sauce
Melt semi sweet chocolate pieces in a double broiler. Add about ¼ cup of warm half and half, a bit at a time until you've reached the desired thickness. Spoon over the profiteroles