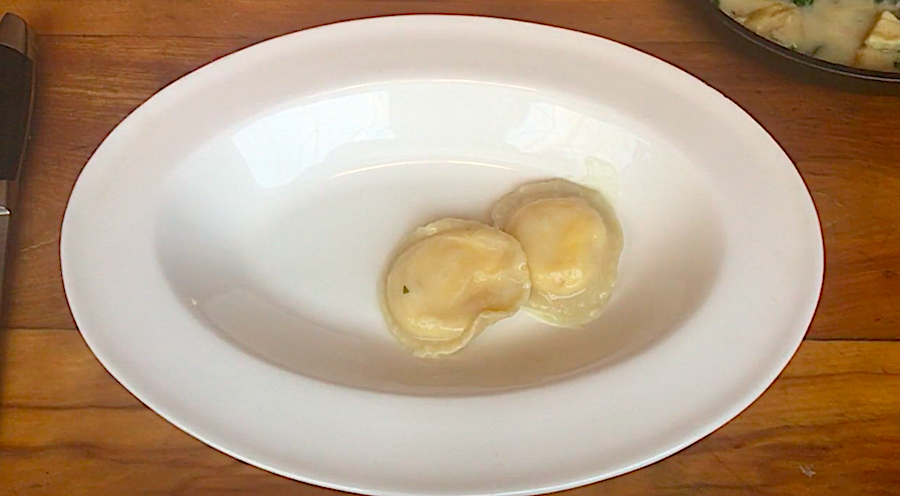 I think of Ravioli as pasta when it wants to get fancy. And this recipe for ravioli with a creamy spinach artichoke sauce, topped with prosciutto (which of course is optional for my vegetarian friends) which adds a lovely salty contrast, is an elegant dish that can be made quickly and with ease. If you buy your ravioli frozen (It freezes beautifully.) it can literally be a meal made in minutes. This recipe takes about 10 to 15 minutes to make and the only thing you need to prep is to chop some garlic.
The sauce is a basic white sauce which makes a wonderful foundation that fuses with and takes on the flavors of anything you add to it, so it's incredibly versatile. You're going to love what you can do with this sauce!
Ingredients (serves 3 to 4)
1 dozen large cheese ravioli
1 8 oz (227 g) bag baby spinach
1 14 oz (397 g) can or jar of quartered artichoke hearts in brine
4 to 6 slices of very thinly sliced prosciutto (optional)
1 cup (.24 liters) chicken broth (or you can use vegetable)
1/4 cup (.06 liters) of extra virgin olive oil
1/4 cup unbleached white flour (84 g)
2 or 3 pats of salted or unsalted butter (adjust seasoning accordingly)
1/4 cup (or to taste) half and half or cream (or dairy product of your choice)
1 medium clove fresh garlic – finely chopped
Season to taste
Instruction
Place a large skillet over medium heat. Add oil and heat until hot but not smoking. Add garlic and cook just until it begins to color (about 30 seconds) and follow with the butter.
Lower heat a bit, add flour and whisk until it forms a paste and cook for about a minute or so whisking frequently. Add half the broth slowly while whisking, cook until it begins to bubble (about a minute or so). Add half the cream and stir. Adjust thickness of the sauce by adding splashes of broth and/or cream until it reaches your desired consistency.
Add artichokes, stir and follow with the spinach. Continue to cook just until the spinach wilts (about a minute). Check and adjust seasoning.
In the meantime, cook the ravioli in boiling water according to package directions and drain. Add the ravioli to the skillet, a few at a time to mix in with the sauce. Plate onto individual plates or a large platter. Repeat with the remaining ravioli, Top each ravioli with additional sauce (making sure to distribute spinach and artichokes evenly) and a sliver of prosciutto…or add grated fresh parmesan if you like.