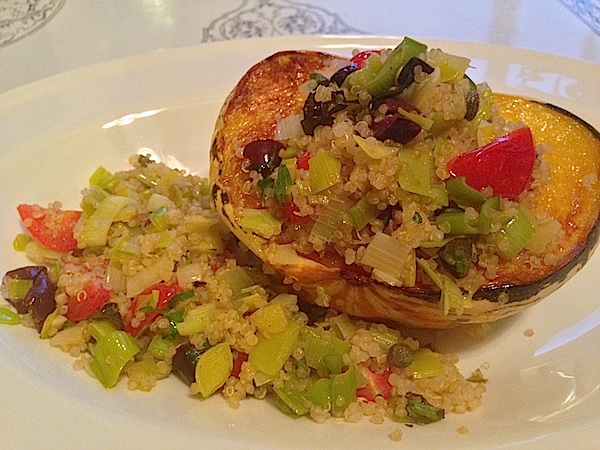 Since I love my pasta and bread (in case you haven't noticed) I try to keep my obsession at bay by coming up with dishes that pack tons of flavor and are nutritious and filling so I don't feel deprived.
This is such a dish.Whenever anyone says they don't like vegetables, I think it's because they've been forced to eat mushy, overcooked, flavorless produce for so long, they now have an instant aversion.
Many times the less you do to a vegetable, the better it is. The squash in this recipe is simply cut in half and roasted. The leeks are sautéed in a little olive oil and garlic. The rest of the ingredients simply serve to bring the two main nutrient rich veggies together into an interesting complete meal.
Where's the protein you ask?
It's in the quinoa of course. Who needs beef when we have this super grain that's packed with protein while remaining cholesterol free and naturally low in fat.
Serve this as an easy "fancy" dinner or as one of your courses this Thanksgiving if you plan on serving a gluten-free or vegan feast. This dish is naturally both.
Ingredients (serves two):
1 carnival or acorn squash, cut in half through the stem
2 leeks with long white shanks, cleaned; dark green parts removed; light green and white parts cut in rings or half moon 1/2″ pieces
1 cup cooked quinoa
1/2 cup vegetable broth
1/2 cup grape tomatoes, sliced in half
1/4 cup of kalamata olives, coarsely chopped
1 Tbsp. capers
1 fresh garlic clove, finely chopped
1/4 cup olive oil
2 sprigs fresh Italian parsley, coarsely chopped
Salt and pepper to taste
Pinch of red pepper flakes
Directions:
Cut the squash in half and roast (cut side down) in a pre-heated 400-degree Fahrenheit oven for about an hour (or until a fork pierces through the skin easily).
Place a medium saute pan over med/low heat and add enough oil to lightly coat the bottom. Heat until hot but not smoking.
Add the leeks once they've been cut and washed (Wash in a large bowl of water several times. They can be quite sandy).
Cook (like their cousin, the onion) slowly (you don't want to brown them) until soft, about 7 to 10 min.
Add the garlic and a pinch of red pepper flakes for heat and cook for a few moments until garlic begins to color.
Add tomatoes. Cook for a couple of minutes, and add the broth.
Add the quinoa, olives, capers and parsley, stir and cook just to warm and incorporate with all the ingredients and reduce the broth a bit.
Place the squash cut side up so it forms a cup and top with the leek/quinoa mixture.