This week I wanted to offer you a simple side dish that wouldn't get lost on the sidelines of your Thanksgiving day table next Thursday. And I have just the thing…my veggie stuffed mushrooms. They're a classic amongst my archive of recipes…something I've been making for many years, professionally and personally and I'm so excited to share them with you. You can thank me later.
Making these for you tonight worked out perfectly because I had some leftover roasted vegetables: some eggplant, zucchini, onions and peppers, so all I had to do was give them a rough chop, add some breadcrumbs, fresh herbs and garlic and I was ready to stuff these beauties.
Portobello mushrooms, as you may know, come in all sizes, from the small white and baby bella (actually called crimini or cremini mushrooms) to the giant mature portobello. The only difference really is age. I like the 3″ (probably the teenager in the family) because all you need is one and any larger would be too much. Smaller is better for a side dish.
If you make these, I know they'll become one of your favorite go to recipes as well.
They came out crispy on the outside, soft and bursting with flavor on the inside and I loved eating them – even cold.
Ingredients
4 baby portobello mushrooms
1 cup bread crumbs
1 clove fresh garlic – finely chopped
1/4 cup fresh chopped parsley
Pinch of dried thyme, oregano
1/4″ slices of the following vegetables
1 medium onion
1 small zucchini
1 red bell pepper – sliced in quarters
1 small eggplant sliced in 1/4 inch slices
Instructions
Pre-heat oven to 400 degrees
Place vegetables (except eggplant) on baking trays and roast for about 15 min. or until soft. Some vegetables like zucchini may be done sooner and some, like the pepper, may take longer so check after 10 minutes and remove any that are cooked and return the rest to the oven.
The eggplant will take about 20 or so but must be covered (or the skin will dry out and get hard) so put them in their own tray or pan.
When veggies are cooked, give them a rough chop and place them in a large mixing bowl with all the other ingredients.
Fill the mushroom – high and round like this.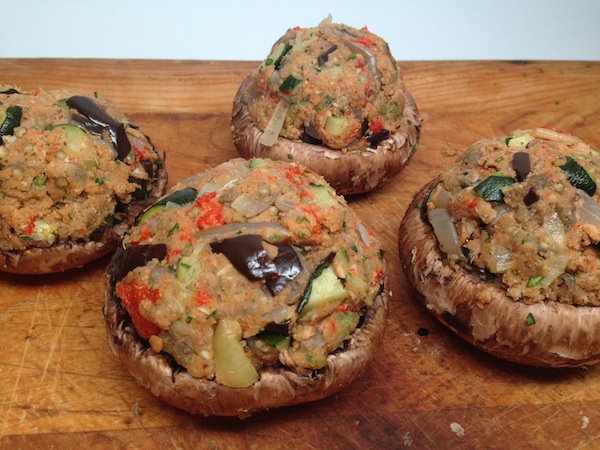 Bake uncovered for about 15 minutes or just until the outside is crispy. Yum, yum, yum.
I wish you, yes you reading this right now, a blessed Thanksgiving.
And if something of me, (a recipe or two) makes it's way to your table, then I'm doubly blessed.
Silvia
But before you go, I'd love to get your feedback on this recipe and about what you may be cooking for your Thanksgiving Day feast.