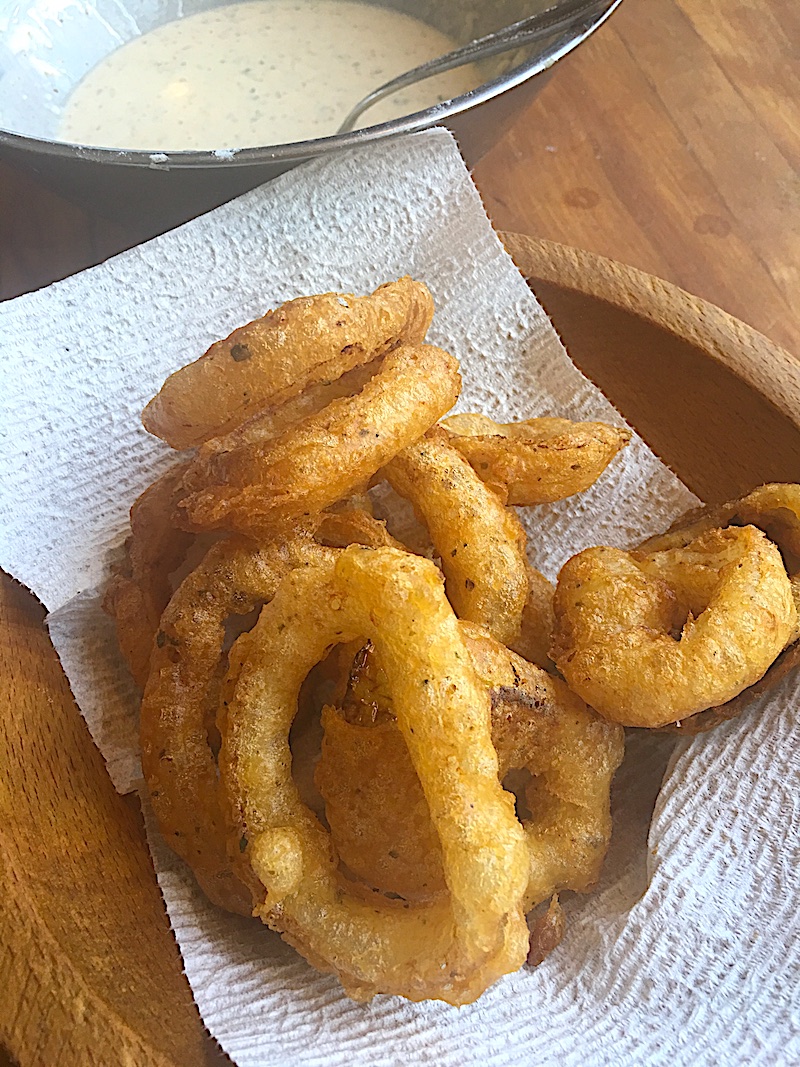 The other day I had a major craving for onion rings, crispy on the outside, tender on the inside and dusted with a spicy herbed seasoning…so I had to make my own. And oh boy am I glad I did! These beauties satisfied all of my desires and I can't wait to make them again.
The batter is simple enough, basically equal amounts of flour and beer with a bit of adjustments for either until you get a batter to the consistency of a thickish pancake batter. Into this, add your choice of seasonings and dried herbs. Since I wanted my rings to have a bit of bite to it I added cayenne pepper, paprika, dried oregano, thyme and then added the juice from half a lime…but feel free to adjust the herbs and seasonings to your liking. Make these to accompany a classic steak dinner or serve them on the side of a burger or sandwich.
Ingredients
1 large sweet onion – cut in 1/2″ rings and separated
1 cup (128 g) unbleached white flour
1 cup (.236 liter) beer
2 cups (.47 liter) vegetable or canola oil ( or enough to reach a depth of about 2 inches or 5 cm in your pot)
1 teaspoon (about 5g) paprika
Pinch of cayenne pepper
Pinch of dried oregano
Pinch of dried thyme
Juice of 1/2 lime
Pinch of salt and pepper
Instruction
In a small bowl mix the flour with the beer and adjust the dry or wet a bit until it is the consistency of pancake batter. Add the herbs and seasoning. Stir and set aside for about 30 minutes so that it thickens. In the meantime prepare the onions and season them with salt and pepper.
In a small saucepan, add vegetable or canola oil for frying. Heat on medium high until the oil is about 365 degrees F (185 C) or test by dropping a small amount of batter into the oil and if it sizzles immediately without getting immediately dark, the oil is ready. If the oil smokes and turns the batter dark quickly, the oil is too hot. If you don't get a sizzle, the oil isn't hot enough.
Drop the onion ring into the batter, shake off excess, and drop into the hot oil. Do not overcrowd the oil for it will bring down the temperature of the oil. Remove the rings once they reach a golden brown color and place on paper towels to drain. Continue with the remaining rings.