I call this fancy, not because it really is, but because it's not your average cole slaw that you buy at the deli counter of your local supermarket. Doesn't it look different? That's because it's made with red cabbage, fennel, scallions and spiralized carrots as well as slivered jalapeño for a little heat…which you can totally leave out if you don't like spice.
This beautiful slaw is a great topping for burgers, sandwiches or mixed into salads for a bit of crunch. And of course, it's totally great alone, eaten right out of the bowl because this batch is just for me…even though even half a smallish head of cabbage makes enough for a dozen people.
I like my slaw creamy…so I toss it in a sriracha/mayo base with splashes of apple cider vinegar and extra virgin oil…but you can easily change this up to any dressing of your liking.
Ingredients
! small head of red cabbage – thinly sliced (or use half a large one…or use the whole cabbage and make a big batch and double the other ingredients. Don't get stuck on exact quantities because it's really simply what appeals to you. Remember, especially for a dish like this, a recipe is simply a guide.
1 smallish fresh anise (fennel) – thinly sliced, core removed (see photo)
2 medium carrots – thinly sliced in about 5″ long pieces or cut with a spiralizer
2 scallions – thinly sliced (white and light green parts only)
1 large or 2 small jalapeño – thinly sliced  (seeds and ribs removed)
Salt and pepper to taste
Dressing Ingredients
1/4 cup mayonnaise
2 tablespoons extra virgin olive oil
1 tablespoon apple cider vinegar
About a teaspoon sriracha (or to taste)
2 tablespoons fresh chopped parsley
Instructions
Cut all the ingredients by hand, or using a food processor, mandolin, or box grater…whatever works best for you. Cutting most of the ingredients is pretty straight forward. If cutting by hand, always put the cut side down so that it doesn't move around and then slice it as thin as you can.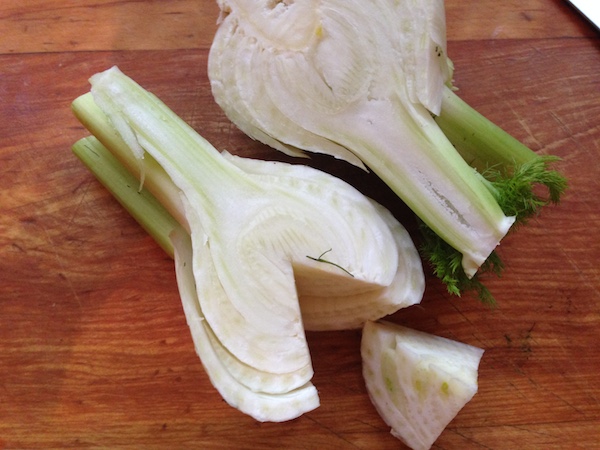 Here's a photo of where the core of the fennel is, since it's probably not familiar to some. Cut it out as shown. Place the cut side down and slice as thinly as you can.
Place all ingredient into a large bowl and mix! Now you see why I call it a rainbow slaw!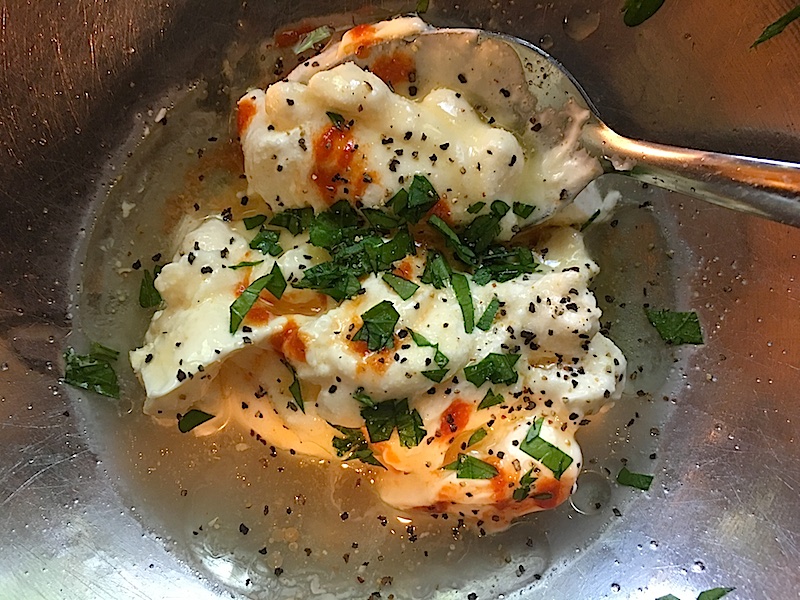 Place all ingredients for the dressing in a mixing bowl and stir to combine. Now you see why I call it spicy…it's the sriracha! If you don't like it spicy…leave it out.
Add the dressing a spoonful at a time to taste. Serve it as a side, mixed into salads, or on sandwiches…like this!