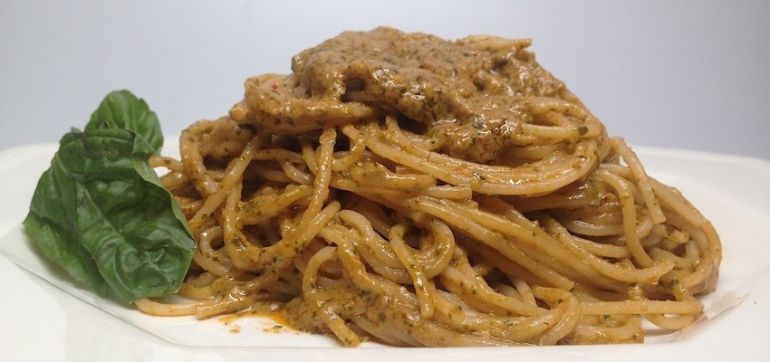 Did you know you can make a pesto almost out of anything? Nope, it doesn't have to be basil. In fact, I think that a basil pesto is just too strong. When I make it, I use half basil and half parsley for a traditional pesto. I've also used lemon verbena, tarragon and arugula, but the possibilities are almost endless.
Here, however is one of my favorites. It's rich, it's creamy and can be used with so many dishes. Pasta, of course, but also chicken (if you eat it), fish and veggies such as potatoes, asparagus and zucchini. It can also be used as a condiment for sandwiches. I made this using cashews instead of pine nuts, because if you've looked at the price of pine nuts lately, you'll know that they've gone through the roof. And really, you can use any nuts you like.
Enjoy this wonderful sauce. You can make a big batch and freeze it, too.
Ingredients for Pesto
1 cup packed basil leaves
1 cup packed parsley leaves (the flat Italian parsley)
1/2 cup dry packed sun-dried tomatoes (not in oil)
1/2 cup raw cashews
1/2 cup vegetable broth (or chicken broth)
1/2 cup extra-virgin olive oil
2 small garlic cloves
Salt and pepper to taste
Instruction
Place all ingredients in the bowl of a food processor (except the broth and the oil).
With the blade spinning slowly, add the oil and then the broth until you reach the desired consistency. Add more broth if too thick.
Toss with pasta (cooked according to package directions).