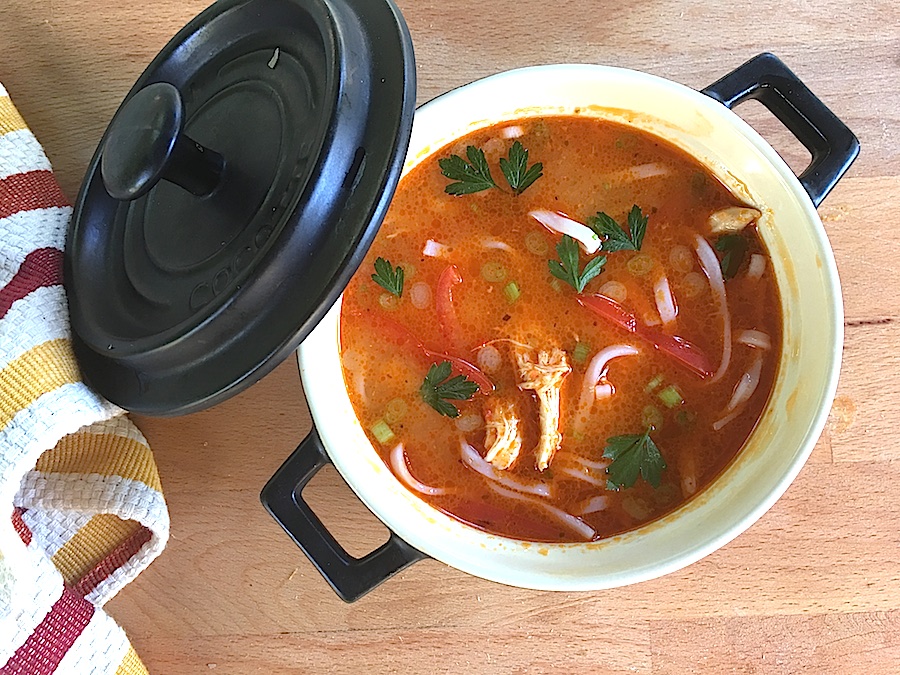 I love this Thai variation on the classic chicken noodle soup. It's flavorful, spicy, easy and quick to prepare and gluten-free. I'd say it's a 10 when it comes to rating a recipe that has it all! When I first made this Thai chicken noodle soup for my son and his wife, who recently honeymooned in Thailand, they not only loved it, but said it captured the flavors of the soups they loved and enjoyed while visiting this beautiful country.
I made this super easy by using the meat from a store-bought roasted chicken. It took me about 20 minutes to make from start to finish. A perfect meal for a busy weeknight.
Note: Don't let any of the ingredients scare you. They can be found in the international aisle of most supermarkets.
Ingredients
2 cups of shredded chicken breast – or the meat from 2 chicken breasts
8 oz (about 227 g) sauce base (see below)
6 cups (about 1419 ml) chicken broth
1 cup coconut milk
16 oz (454 g) rice noodles – thin or thick
Sliced scallion, red pepper for garnish
cilantro (though I used parsley) for garnish
Ingredients for the Sauce Base
1/2 of a small sweet onion – roughly chopped
1 medium clove of garlic – roughly chopped
1 red bell pepper – seeds and ribs removed and roughly chopped
3 tablespoons extra virgin olive oil – or enough to lightly cover the bottom of a medium skillet
7 oz (or half a jar) of Sharwood's Red Curry Sauce (see below)
1 inch or so (25 mm) of fresh ginger – roughly chopped
2 tablespoons (about 30 ml) fish sauce
Instructions for the Sauce
Place a medium skillet over medium/low heat. Add oil and heat until hot but not smoking. Add onions and peppers and cook until they begin to soften (about 2 minutes).
Add the garlic and ginger and cook just until the garlic begins to color (about 30 seconds or so).
Remove from the heat and add the contents of the pan to a blender or food processor. Add the remaining ingredients and process into a smooth paste.
Instructions for the Soup
Place a medium saucepan over medium low heat. Add the sauce base and cook until it begins to bubble. Add the broth slowly and stir until incorporated. Add the coconut milk and stir. Add the shredded chicken, lower heat and simmer until the noodles are cooked.
In the meantime bring about 2 quarts (1893 ml) of water to boil and cook the noodles according to the package direction.
Drain the noodles and distribute them amongst the serving plates and ladle with the soup.
Top with sliced scallions, pepper and cilantro or parsley and enjoy!