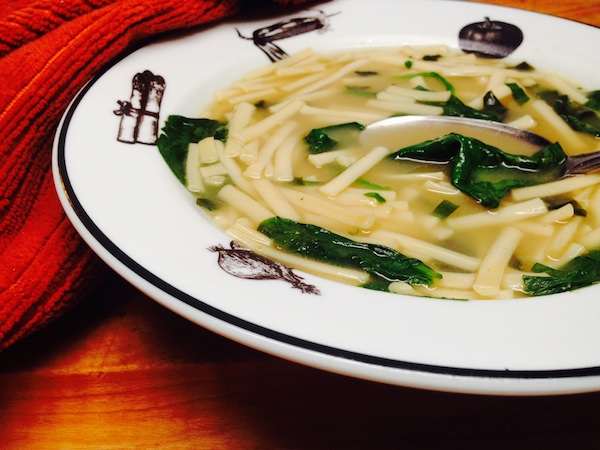 I know, by the time you get this, your leftover turkey will be long gone, but I couldn't pass up the chance to show you how to make this easy and  fabulously tasty soup considering I've been making it every year after Thanksgiving for years (probably decades) and haven't shared this yet.
Besides, maybe you'll roast another turkey for Christmas, or there's always next year. Either way, this is a keeper. And since I think making full use of my leftovers is the only respectful thing to do, this recipe serves a useful purpose.
Ingredients for the Stock
Leftover turkey carcass – any usable meat removed
2 carrots – chopped in large pieces
2 celery stalks – chopped in large pieces
6 sprigs parsley – stems and flowers
1 onion – quartered
2 or 3 fresh tomatoes – quartered (or canned whole peeled)
Ingredients for the Soup
1/2 lb. linguine or fettuccine noodles – broken in about 1 inch pieces
2 cups fresh spinach – packed
Carrots and celery – optional
Instructions
Break the carcass in large pieces, place in a large stockpot and cover with water. Add all the remaining ingredients for the stock and place the pot over medium/high heat. Bring to a boil, season with salt and pepper, stir and lower the heat to a low simmer.
Cook for at least 3 hours or more until  the liquid reduces and the flavors get concentrated. If the stock is still a bit weak, add a bouillon  cube or better yet a tablespoon of chicken base (organic "Better Than Bouillon" is great).
From time to time skim any crud that floats to the top. Pass the soup through a fine mesh sieve and  into another pot. Discard the stock ingredients or give the veggies (and any remaining meat) to the dog.
Add the noodles and cook according to package directions being sure to cook al dente (cooked but still has a bite). A couple of minutes before the noodles are cooked, add the spinach. Adjust the seasonings and serve.
Was this helpful? What do you do with your leftovers?
I'm curious since I hate wasting food so what do you do?
Let me know in the comments below.