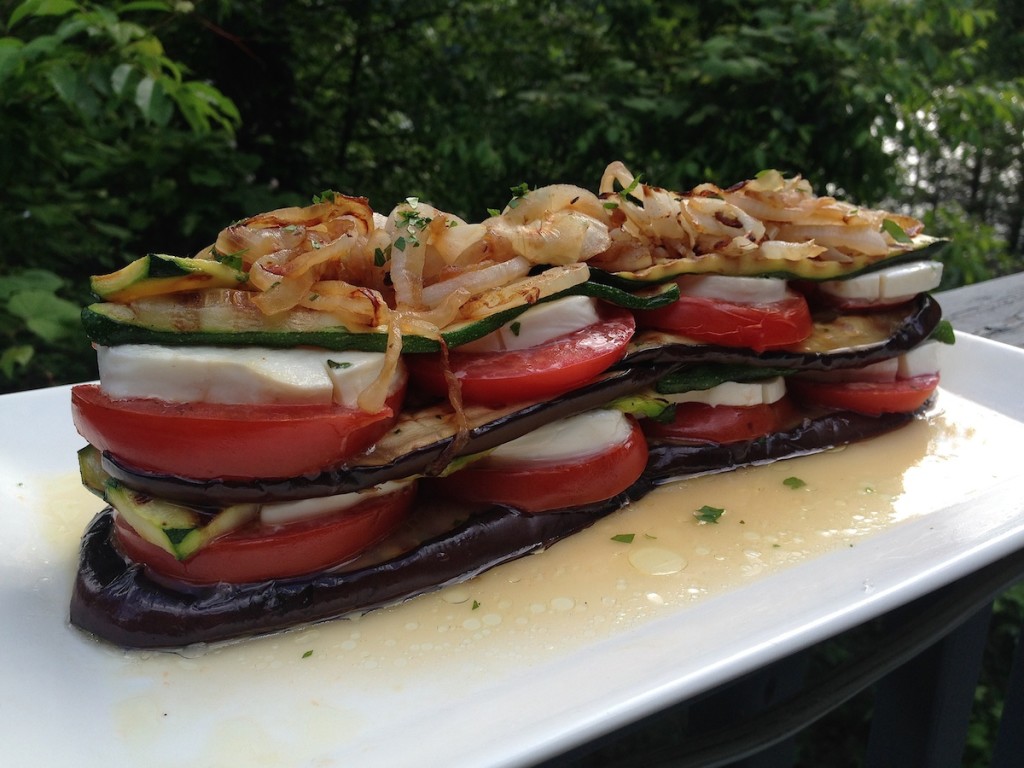 Normally I make this dish as individual servings which can be quite elegant for a dinner party. This time however I wanted to make it family style so that it would be easier to feed a number of people at the same time. I made this for a summertime girls night in.
I grilled the vegetables on a sealed indoor electric grill so the vegetables didn't dry out or fall through the holes in the grill. If you want to grill outdoors, you can place a piece of thick foil dotted with small punctures over the grill. If you have a grill pan, you can place that over the grill. Or you can simply roast the vegetables in the oven. However, regardless of whether you grill or roast them, here are a few tips to insure they come out perfectly.
For all porous vegetables with a high water content such as zucchini and eggplant, roast or grill them without oil. This will prevent them from getting soggy.
For firm vegetables such as carrots, peppers, onions, toss them in a bit of olive oil, just enough to moisten them before grilling or roasting.
It's not only okay, but preferable to leave the skin on eggplant…but if you do, make sure you cover them with foil before grilling or roasting. This will prevent the skin from toughing and making it inedible.
Cooking times vary (depending on temperature and how thin or thick the slices are) so keep you eye on the veggies (especially if grilling) and cook just until they soften
Grilled Vegetable Napoleon (It's Gluten-Free!)
Serves 6
Ingredients
1 medium eggplant, cut into 4 1/4-inch pieces, lengthwise.
2 small zucchini, cut into 8 1/4-inch pieces, lengthwise
2 large slicing tomatoes, cut into 8 1/4-inch circular pieces
1 large sweet onion, cut into thin circular (or semi-circular) slices
Fresh mozzarella, cut into 8 1/4-inch circular slices
1/4 cup extra virgin olive oil
1 medium garlic clove, finely chopped
1/4 cup flat leaf Italian parsley, stems removed and finely chopped
Salt and pepper to taste
Directions
Grill the vegetables (on medium/high) until soft and you see the grill lines and turn. About 5 – 10 minutes or so on each side depending on the heat source.
This step is optional but it adds great flavor: Heat the olive oil in a skillet over medium heat, add the garlic (a few pepper flakes for heat if you like) and cook just until the garlic begins to color – about 30 seconds. Remove from the heat immediately, add in the parsley, season with salt and pepper and drizzle over each layer of the napoleon.
Assemble
Place two pieces of eggplant in a baking tray or dish. Season. Drizzle with the oil/garlic/parsley mixture.
Follow with 4 pieces of tomato, season and top with 4 pieces of mozzarella. Season. Drizzle with the oil/garlic/parsley mixture
Top that with 4 pieces of the zucchini, season and repeat.
Add the onions on top. Season. Drizzle with the oil/garlic/parsley mixture.