These wild rice cakes fed me and my daughter for days. They can be a fancy appetizer as above or a snack (eaten cold right out of the fridge) or they can be the base for any number of savory dishes. They are perfectly yummy. First I'll give you a pictorial recipe, then the recipe, then all the wonderful ways I served these. Talk about great leftovers, these definitely take the cake.
First I used a medley of wild rice and some sticky rice (or you can use arborio)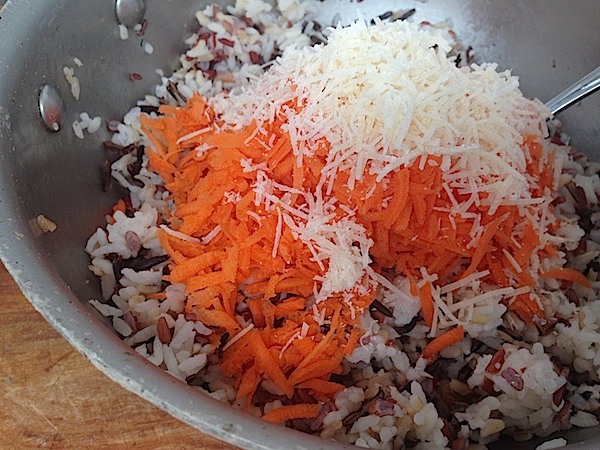 Then I added some grated carrots and parmesan cheese. But you can use any grated vegetable. It's a great way to hide the veggies from the kids.
Then I added some chopped parsley and breadcrumbs.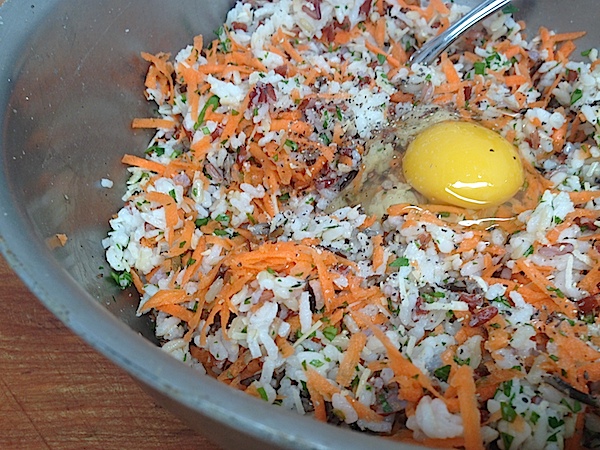 And finally an egg and mixed everything well.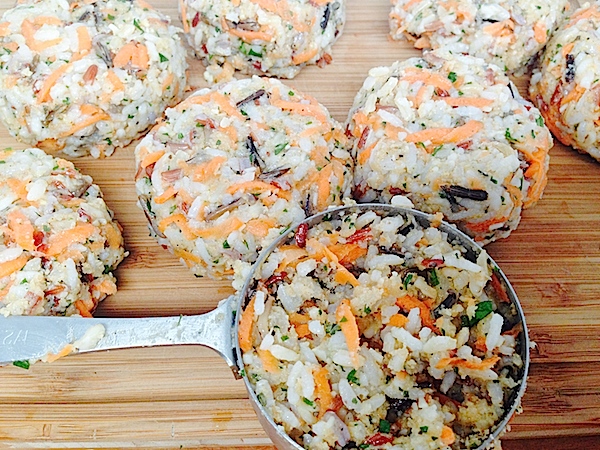 Next I measured each cake by stuffing the mixture into a 1/2 cup measuring cup, popped them out and finished forming the cakes with my hands. Make sure the sides are straight and the bottoms and tops flat for easy pan frying.
Next I dredged them in flour. Shake off he excess. (you can use gluten – free flour if you like)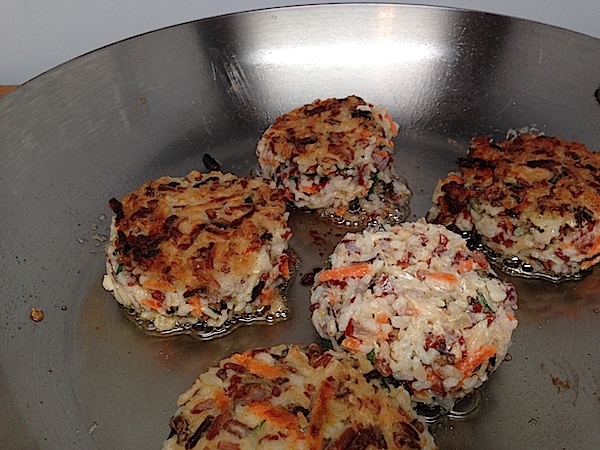 Then I pan fried them and set them on paper towels when they came out of the pan.
Lastly I put them in the oven for about 15 minutes just to get the inside warm. Then I ate them just like this. Plain and unadorned
Here's the recipe
(Makes 8 cakes)
1 cup wild rice (226.8 g)
1/2 cup sticky rice (or arborio rice – 113.4 g)
1 cup shredded carrots (226.8 g)
1/4 cup grated parmesan (56.7 g)
1/4 cup chopped Italian parsley (stems removed)
1/2 cup bread crumbs
1 Jumbo egg
1/4 cup olive oil (or just enough to cover the bottom of the pan – 62.5 ml)
Flour for dredging
Salt & pepper to taste
Instructions
Cook the rice blend in 2 3/4 cups water, covered for about 20 minutes or until the rice is tender and the water has been absorbed by the rice.
Place rice blend in a large mixing bowl. Add all the remaining ingredients (except oil and flour for dredging) and mix well.
Form into cakes. Dredge in flour and shake off excess.
Place a large saute pan over medium/high heat and add enough olive oil to cover the bottom of the pan. Heat until hot but not smoking.
Add the cakes and cook until they're golden (about 1 minute on each side).
Remove and set them on paper towel to absorb the extra oil
Place in a pre-heated 350 degree oven for about 15 minutes just to warm the inside.
Serve alone or with an number of savory dishes. Here's a few photos to inspire you to serve them in oh so many ways.
Over greens
With roast chicken and gravy
With sautéed shrimp scampi
With an egg for breakfast
And now your turn. Let me know what you think of these wild cakes.
Are you inspired? Does this look like something you may want to have on hand?
Tell me what you like to keep on hand so you have something delicious ready to satisfy when hunger strikes.