Asparagus season is upon us, here in the northeast US. I know it may not seem like much to those of you who live in warmer climates but I'm doing a happy dance! So in this post, I'm celebrating one of my favorite vegetables. First, a few tips on cooking asparagus, which can be roasted, grilled, sautéed, steamed or boiled.
Size and Method Matter
The thin kind – (it's young) Great for sautéing.  It doesn't have to be par-boiled first like it's thick stemmed sibling does; don't try to grill it…it'll most likely burn. If roasting, it's gotta be quick or it'll dry out. Steaming or boiling is best! The Thicker Kind – (it's more mature) Great for grilling, roasting and just about anything except sauté. When the outside is done…the inside is still tough.
Storage and Cleaning
Store upright with the rubber band still on, in an inch or so of water and cover with a plastic bag.  
Snap off the tough woody ends…it naturally snaps where its supposed to.
To Peel or not to Peel – It doesn't really matter if it's the thin, younger kind but it's a good idea to peel those with thicker stems because they're woodier and peeling helps cook them faster…and it does make a prettier presentation if you use a vegetable peeler to shave the tough outer skin.
Keep it Simple – asparagus doesn't need much to make it tasty…just a bit of olive oil and salt and pepper. Except…sometimes it's fun to dress it up like in the "fries" below.
Roasted Asparagus
Drizzle with some extra virgin olive oil and place in the oven at 400 F (205 C) on a baking sheet, in a single layer for about 10 to 20 minutes depending on the thickness or until tender but still crisp. Finish it with another drizzle of olive oil or balsamic vinegar and a squeeze of lemon.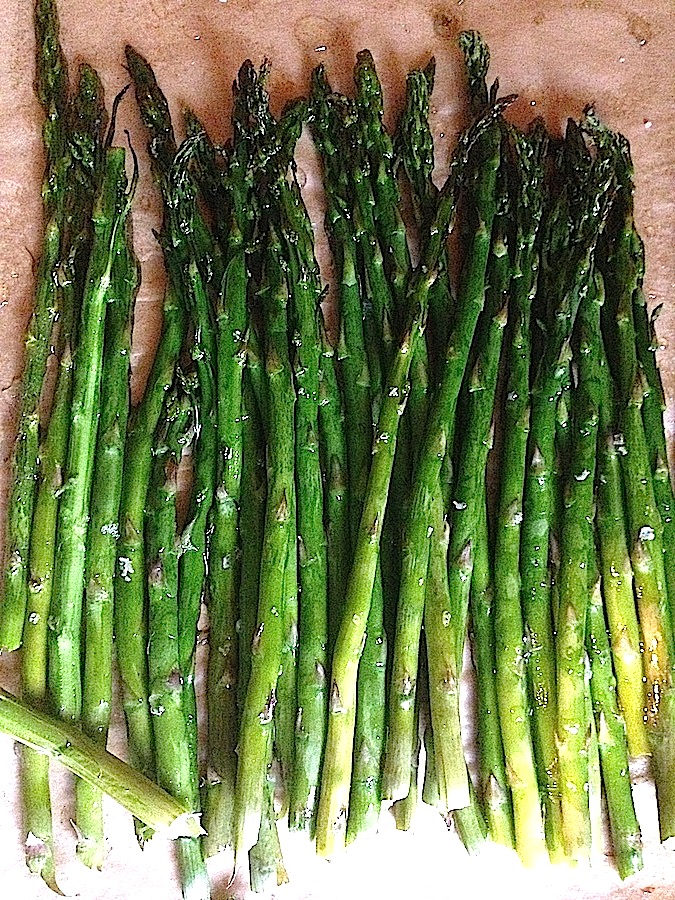 Asparagus Fries
These were sensational! I ate them like…well fries…only better. At the time I didn't have thicker stemmed asparagus so I used medium. That's how I know you need the thicker kind. Because the stems were perfectly crisp and brown but the tips were overcooked…see…
Ingredients
1 bunch thick stemmed asparagus (or less depending on how many you want to make) thick ends snapped off 1 egg beaten with a splash of milk or water and seasoned with salt and pepper Flour for dusting (use any kind of flour you like) Panko + about 1 tablespoon of parmesan for each cup of panko. But start with less and add more as you go otherwise it gets soggy.
Directions
The set up….
Dip in flour, then egg wash, then the panko mixture.
Place in a single layer on a baking sheet lined with parchment paper and drizzle with extra virgin olive oil. Bake at 400 F (or 205 C) until the coating is a golden brown…about 20 minutes.
Yum, yum, yum! Can't tell you how good these are! In the comments below, feel free to ask me questions or share some of your favorite ways to cook asparagus.