Some things in life can't get any better unless you add them together. This dish is one of them…a marriage of a classic caprese salad with trendy (but oh so good) spiralized and sauteed summer squash. Just writing this makes me feel summer.
You really don't need a recipe for this. Simply dice up some fresh mozzarella, slice up some tomatoes the same size and set aside. In the meantime spiralize the squash (or zucchini if you prefer…I just chose the squash instead for it's color) and sauté it in hot skillet with a tablespoon or two of extra virgin olive oil. It'll only take a minute.
When the squash softens (Don't over cook. Just like pasta…you want the squash al dente…cooked but with some bite to it) add it to a salad bowl. Add the tomato/mozzarella. Season with salt and pepper and gentle toss. The hot "noodles" will be warm enough to just slightly melt the mozzarella…and oh boy! Top with the basil and enjoy the #crazygoodness of it all!
Ingredients
About 4 oz of fresh mozzarella per person – diced
About 6 grape or cherry tomatoes per person – halved
1 small summer squash or zucchini per person – spiralized or cut into rounds, diced or in strips
2 tablespoons extra virgin olive oil
Garnish with slivered fresh basil
Season with salt and pepper
Instructions
Place a medium to large skillet over medium/high heat, add oil to cover the bottom of the pan and heat until hot but not smoking. Add the zucchini and cook, tossing a few times, until cooked but still firm to the bite.
Toss gently with the other ingredients and serve.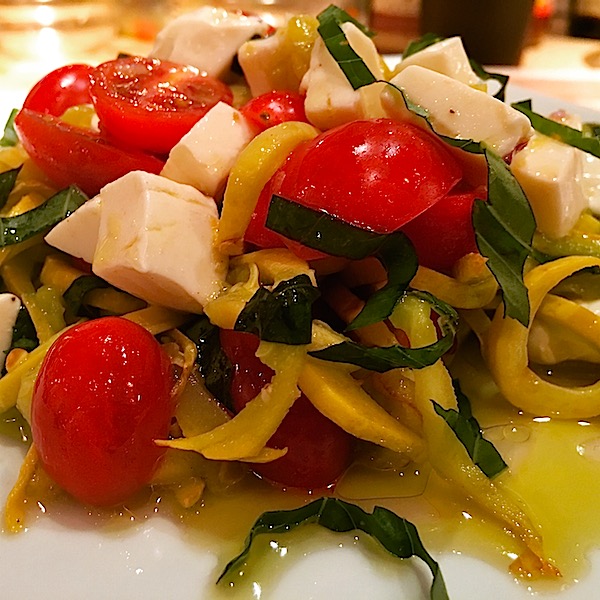 If you try this, tell me in the comments. I'd love to know. Seriously guys, I could eat this ever day this summer.