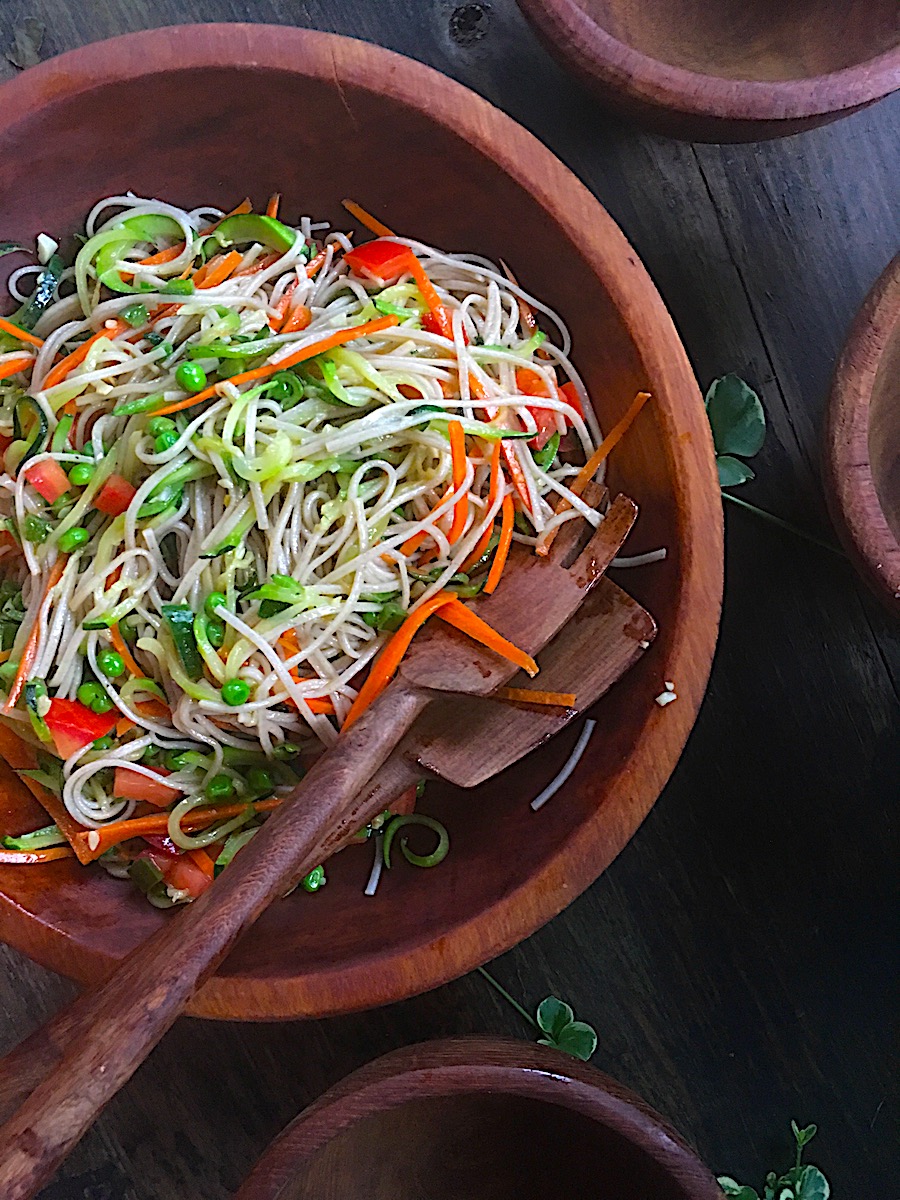 I came up with the recipe for the cold soba/zucchini salad when daughter asked me for help coming up with some tasty dressings for the Buddha bowls she brings to work for lunch every day. I decided to do a bit of experimenting by first cooking up some cold soba noodles. Then I thought I'd spiralize some zucchini and sauté them in a bit of extra virgin olive oil and garlic. This formed a light base to the salad to which I then added baby peas, tomato and julienne carrots.
I love mixing zucchini "noodles" with noodles because this not only adds flavor and veggies…it cuts back on the number of carbs in the dish.
But it was the dressing that elevated this simple salad to the divine!  It has a wonderful creamy Asian flavor so there's no doubt you'll want to use it on so many other salad variations you're bound to create.
The Salad
8 oz (227 g) soba noodles – Cooked according to package instructions
8 oz. baby frozen peas
1 large or 2 small zucchini – spiralized or julienned (cut in very thin strips)
1 large or 2 small carrots – spiralized or julienned
1/2 cup (113 g) diced tomato
Olive oil – enough to lightly cover the bottom of a medium skillet
1 clove fresh garlic – finely chopped
Pinch of red pepper flakes (optional)
Salt and pepper to taste
Creamy Honey Mustard Ginger Dressing
1/4 cup rice vinegar
1/4 cup extra virgin olive oil
1 tablespoon sesame oil
1 tablespoon honey
1 tablespoon mustard
1 tablespoon lemon juice (or orange or lime)
1 tablespoon grated fresh ginger
Salt and pepper to taste
Instruction
Place all ingredients for the dressing in a jar and shake until well mixed and creamy. Tweak any of the ingredients to taste and set aside.
Drain and place the soba noodles into a large bow. Add the carrots and tomatoes and set aside.
Place a medium skillet over medium heat, add oil and heat until hot but not smoking. Add the garlic and pepper flakes, cook until it just begins to color (about 30 seconds) quickly followed by the zucchini. Cook for a minute.
Add the peas. Cook for another minute or until the peas are warm and the zucchini cooked but still firm.
Add the contents of the skillet to the bowl. Add the dressing a little at a time until the salad is coated to your taste. Season, toss and serve.