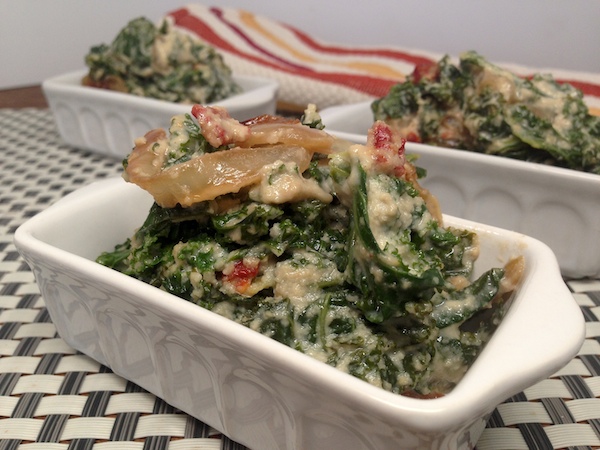 Creamed spinach is one of my favorites side dishes, but I can no longer justify making it using cream. So when I discovered the great taste and health benefits of using cashew cream … I fell in love and use this to transform all the classic creamy recipes I adore into dishes I won't have to live without and love me back.
You'll adore this recipe for creamed kale as an alternative to spinach. It's heartier. Sautéing the kale first in garlic and oil (you can use coconut oil, but it'll change the taste) gives it great flavor.
Adding sun-dried tomato bits adds color, and the caramelized onions add another flavor dimension. Besides, I wanted an excuse to show you how easy it is to make caramelized onions, because it's so convenient (love when we have a healthy convenience trick) to have a container of these sweet goodies in your fridge to add to sandwiches, salads, pizza, soups and omelets.
This easy dish really gives you three amazing recipes in one. Enjoy this, and I'd love to hear your thoughts.
Ingredients
6 cups raw kale, washed, stems removed, torn in random bite sized pieces
1/4 cup caramelized onions, see recipe below
1 cup cashew cream, see below for the recipe
2 – 3 Tbsp. olive oil (or just enough to lightly cover the bottom of the pan)
1 clove garlic, finely chopped
Pinch of red pepper flakes
1 Tbsp. nutritional yeast
1 Tbsp. sun-dried tomatoes, cut in tiny snippets
Salt and pepper to taste
Instruction
Caramelized Onions
Thinly slice 4 – 5 large onions (or how every many you like). Place a medium (flat bottomed) sauté pan over low heat. Add enough olive oil to lightly cover the bottom of the pan and heat for a few moments.
Add the onions and cook slowly, stirring only when the onions on the bottom begin to color. Add a splash of water if the onions stick and lower the heat if they are browning too quickly. Continue cooking slowly until all the onions reach a deep, rich golden color. About 30 – 45 minutes. Season with salt and pepper.
Cashew Cream
Place 1/2 cup of raw cashews in a bowl, add 1 cup of water and let them soak for at least 30 minutes
Place water and nuts in the bowl of a food processor and pulverize until it forms a thin, smooth milk (it will thicken when added to heat)
"Creamed" Kale
Place a medium saute pan over medium heat. Add the oil and heat.
Add garlic and pepper flakes and cook just until the garlic begins to color (about 20 seconds or so).
Add kale, cover and cook until kale begins to wilt (about a minute).
Stir and add the cashew milk. Season with salt and pepper, add nutritional yeast and stir.
Cook for several minutes more until the cashew milk thickens and the kale is tender.
Stir in a portion of the caramelized onions and the sun-dried tomatoes and serve.
Do you like this recipe? Have questions about it? Let me know in the comments below.