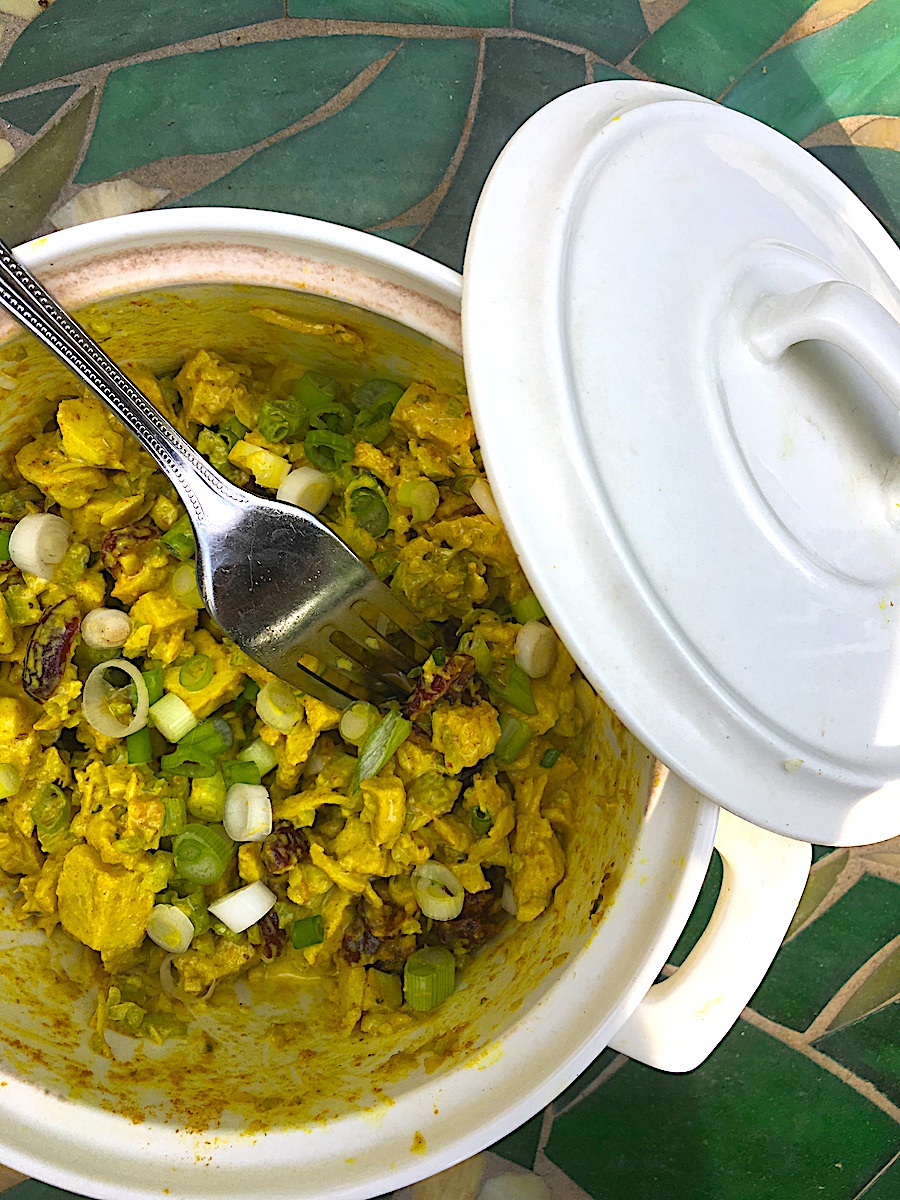 This is a salad I learned how to make while working at a friend's cafe in New Milford, CT called the Green Granary. It's an inviting, cheery space where literally everything is good and organic.
This curry chicken salad became a favorite of my son so I made it often over the years even though I no longer worked at the cafe where it originated. Recently however, I went in to help out as I occasionally do from time to time when she needs me and I made a big batch of this and fell in love wit it all over again and wanted to share it with you so you could make it at home since most of you live all over the world and won't likely be near New Milford. But, if you are…you must make visiting the Green Granary one of your stops.
The quantities for the curry sauce is an approximation and the best way to make it is to keep adding small amounts of curry and/or honey until you reach your desired taste. Some like it sweeter than others and the perfect balance is very much an individual taste.
Ingredients for Salad
4 chicken breasts – Cooked and diced
1/4 cup dried cranberries
1//4 cup sliced almonds
2 celery stalks – diced
2 scallions – diced (optional)
Sauce
1 cup mayonnaise
3 tablespoon curry powder
3 tablespoons honey
Instructions
In a large bowl add all of the ingredients for the salad. Adjust to your liking by adding more or less of each ingredient. There's no hard and fast rules for this.
Note: Cook the chicken breasts by seasoning them with salt and your favorite dry herbs, grilling or pan searing them and then finishing them in the oven until they reach an internal temperature of 160 degrees F (71 C) or when it's opaque throughout with no pink juices.
For the sauce, add all ingredients into a small bowl, stir and adjust by adding more or less of each ingredient to taste. Add the sauce a bit at a time until all the chicken is coated with the sauce…again to your liking.
You can easily double or triple this and keep some on hand to add to mixed green salads or sandwiches and wraps like this one.