I'm always surprised when people tell me they don't like eggplant and I suspect it's because they never had it cooked well. Cooked thoroughly, without being greasy, and mixed with kalamata olives, capers and tomatoes results in this the classic Mediterranean dish that is full of intense flavor and makes the perfect base for seafood, poultry, eggs, or as a sauce for pasta or polenta. Or, it's delicious eaten alone as I did below with a piece of fresh naan bread. I couldn't get enough of this!
Ingredients
1 medium eggplant – medium diced
1/4 cup of extra virgin olive oil
Splashes of chicken or vegetable broth
12 – 15 cherry or grape tomatoes – sliced in half
6 – 8 kalamata olives – pitted and roughly choppped
1 tablespoon of capers
1 medium clove fresh garlic – finely chopped
1 pinch of red pepper flakes – for heat (optional)
Fresh flat leaf parsley – for garnish
Instruction
Place a medium skillet over medium/high heat. Add oil and heat until hot but not smoking. In the meantime, slice eggplant in 1/4 inch slices, then dice and add to hot oil.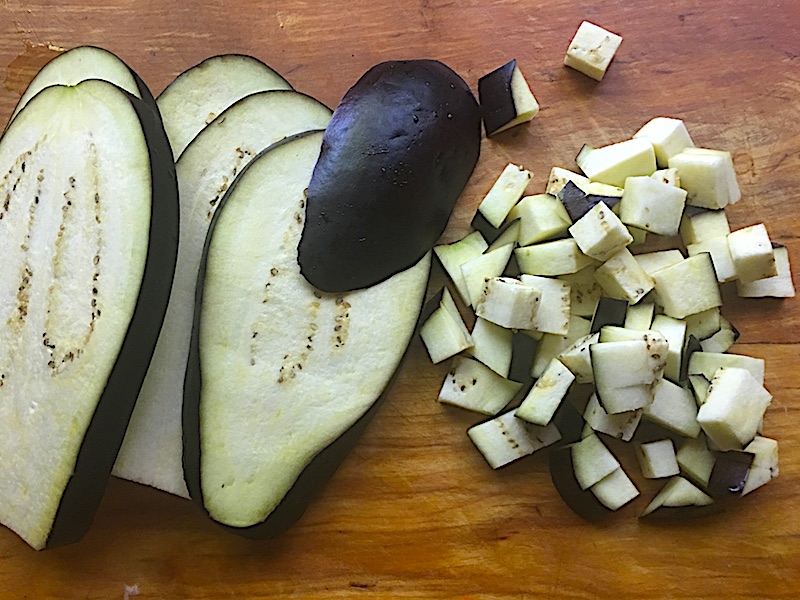 Cook eggplant until cooked through and golden (about 5 minutes), adding splashes of broth when needed. In the meantime prep the garlic, the tomatoes and the olives.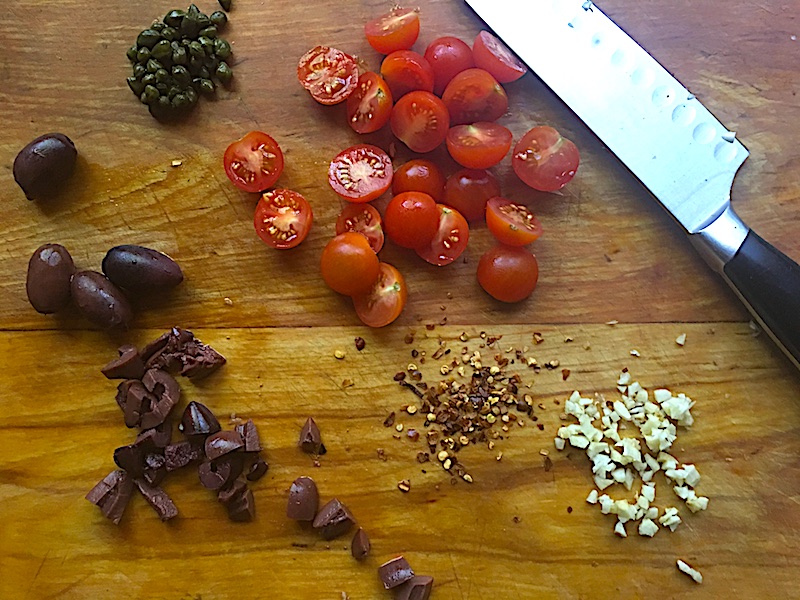 Move the eggplant to one side, add garlic and cook until it begins to color (about 30 seconds) followed by pepper flakes and the remaining ingredients. Cook for about a minute longer, just until the tomatoes begin to wilt. Remove from the heat, season with salt and pepper and garnish with parsley.
Serve with a filet of fish, grilled chicken or pork, with an egg or over pasta…or delicious eaten alone with fresh bread.