Pasta as it's meant to be, in all it's unadorned deliciousness…
but gluten-free
I'm not a celiac so I don't have to eat gluten-free, but I feel so much better when I do. It has so many benefits including a better looking belly. But what's a pasta loving Italian gal to do when she can't find a pasta that doesn't end up tasting like cardboard?
She makes her own.
But that's far easier said than done. I've tried for years with little success to come up with a flour mixture for fresh pasta that is as good (if possible) as the pasta I've been making and eating all my life.
I have yet to find a store bought pasta that was worth pairing with my wonderful sauces. Most gluten free pasta in supermarkets is made with brown rice as the first ingredient. I am not a fan. It tastes a bit (more than a bit) like chewing on cardboard. Pasta made with corn flour as the first ingredient is better, but…well, a bit corny – not to mention, GMO's.
I tried to make my own flour mix a few years ago but my pasta was still disappointing and not worth the effort. I left this project alone for awhile, choosing rather to cool down my love affair with my native pasta and indulge, sparingly, only when I could enjoy the real thing. This wasn't so easy either.
With a renewed sense of determination, I set out once again to try my luck with coming up with the perfect flour mixture for fresh pasta. Finnally, after trying various mixes (my own and commercially available ones) and days of kneading, cutting and eating pasta – which wasn't as great as it sounds…
I did it!
And now you can too.
But first, make your sauce so it's ready when the pasta is.
Click here for my so easy and perfect marinara sauce.
Click here for some to die for bolognese sauce.
Recipe For the Pasta
½ cup sweet white rice flour
½ cup all purpose flour (Bob's is a perfect mix of garbanzo bean, potato starch, tapioca, white sorpham and fava bean)
1 teaspoon xanthum gum
4 tablespoons water
1 egg
¼ tsp salt
Preparation
In a large bowl mix all the dry ingredients together and then make a well for the water and the egg.
Add water and egg into the well and beat them with a fork.
Now take your fork and go around the flour, forking the flour into the well until it's all mixed. This is fun right?
Place your sticky dough onto a lightly floured board and knead. Kneading is a smooth motion of rolling the dough forward, starting where your wrist meets the palm of your hand and moving forward to reach your fingers. I know this sounds like yoga instructions which are hard to follow if you're not watching someone do it so if that's what you need to knead (lol)…here's a link that will help. Yes a photo is worth a thousand words and a video a zillion. This guy knows his stuff. But note that he does everything on a board and that's a great way of doing it but if this is new to you, a bowl is better for the mixing of the flour and eggs which is shown too (yeah, I know he uses 3 and I use one but I didn't want egg noodles…just pasta dough) and his instructions are wonderfully easy to follow.
After you've kneaded your dough, as you'll see in the video it's time for it and you to rest. So wrap the dough in plastic, yourself in a "blanky" with a cup of tea (if you're in an air-conditioned room) for about 20 minutes or so until it's time to cut the dough into pasta.
If you have a pasta machine here's another video to show you how to use it. But note…he rolls the dough into a very long sheet and then cuts it so your fettuccine ends up being about 6 feet long! Since most of us don't eat pasta that long, I suggest cutting the sheets into about one foot pieces and then cutting it.
And if you don't have a pasta machine…don't feel you can't make pasta…you can. It's just takes a bit more effort….so here's an easy pictorial article (video's were not great for this)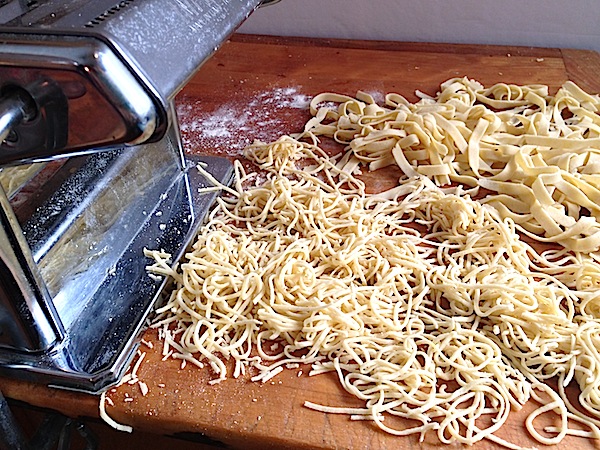 Cut Spaghetti & Fettuccine
In a tomato bath
Plate, serve and enjoy.
Ahhhhh…pasta as it's meant to be.
And now I want to hear from you.
What do you think of store bought GF pasta?
Have you found one that tastes good?  And if so do tell.
Have you ever tried to make fresh pasta? If so tell us how it turned out.
Do you make pasta with a machine or simply with a rolling pin?
Do you have any recipes you want to share?
We're in the kitchen and people talk. Talk to me.