Make a big pot of polenta and the Bolognese sauce below, (or a meatless sauce) call a group of friends, serve warm on your own communal plate and start the conversation and wine flowing.
Basic Polenta Recipe
Serves 5 or more
1 pound or slightly more of coarsely ground corn meal (you want corn meal the consistency of fine to medium-grained sand, not flour, and if possible stone-ground)
2 quarts boiling water (have more handy)
A heaping teaspoon of salt
Set the water on the fire in a wide bottomed pot and add the salt. When it comes to a boil, add the corn meal in a very slow stream (you don't want the pot to stop boiling), stirring constantly with a wooden spoon to keep lumps from forming. Continue stirring, in the same direction, as the mush thickens, for about a half-hour (the longer you stir the better the polenta will be; the finished polenta should have the consistency of firm mashed potatoes), adding boiling water as necessary. The polenta is done when it peels easily off the sides of the pot.
Bolognese Sauce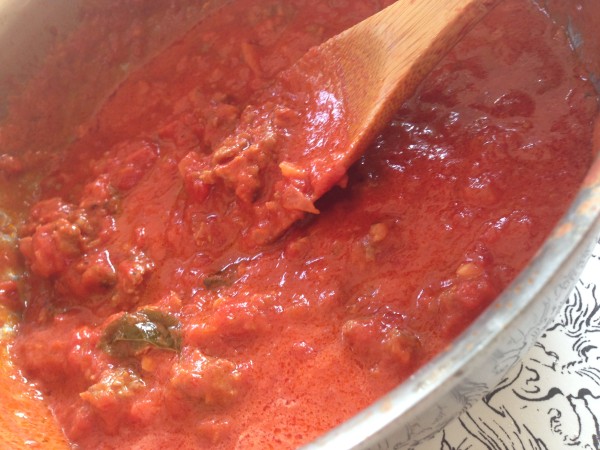 3 to 4 tablespoons extra-virgin olive oil (or enough to cover the bottom of the pan)
Pinch of red pepper flakes
1 small onion, finely chopped
1/2 medium clove garlic, minced
1/2 lb ground pork
1/2 lb ground turkey
½ lb. of sausage meat (casing removed)
3 to 4 tablespoons sherry
2 16 oz cans of crushed tomatoes (or whole peeled crushed by hand)
1/4 cup half and half
Salt and freshly ground black pepper to taste
1 tablespoon Italian (flat-leaf) parsley, stems removed and chopped, for garnish
Put the oil and red pepper flakes in a large sauté pan over medium-high heat for about 1 minute and heat until the oil is hot but not smoking. Sauté the chopped onion until soft, about 1 minute, then sauté the garlic for a few seconds, or just until the garlic begins to brown.
Add the ground meat, and use a wooden spoon to break it into pieces and brown it on all sides, about 3 to 4 minutes. Be careful not to over stir and break up the meat chunks. You want them in big chunks for maximum flavor. Add the sherry and stir. Add the tomatoes and cook, stirring occasionally, until the sauce begins to boil. Lower the flame to medium/low and simmer for about 45 minutes or until the meat is thoroughly cooked. Finish the sauce by adding the cream. Stir, reduce the heat to low, simmer for one more minute, and remove from the heat. Season with salt and pepper.