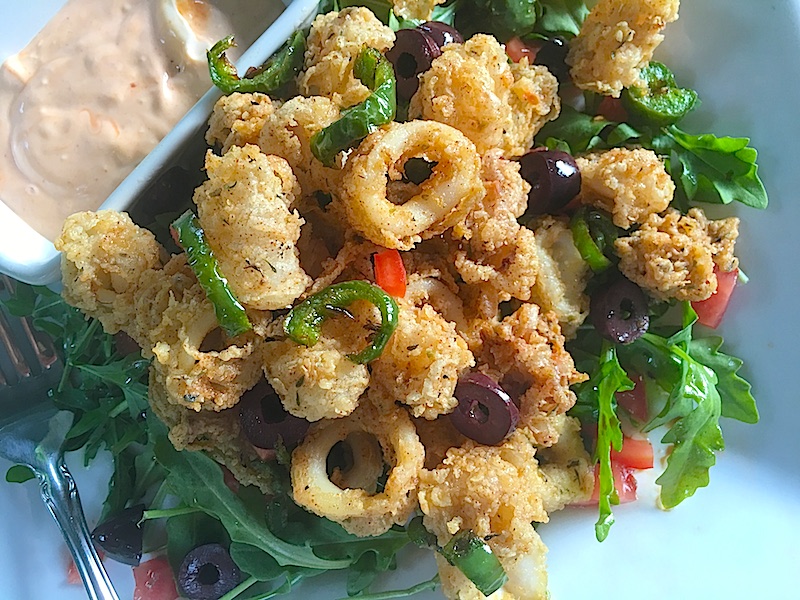 I love fried calamari and perfecting it has been a wonderful challenge…because frying calamari so that it's crispy on the outside, soft and tender on the inside without being rubbery can be tricky.  Calamari needs to be cooked briefly, just a minute or two at high temperatures or simmer for longer periods of time, 30 minutes or more to re-tenderize it. Anything in-between makes it tough and chewy.
Keep this in mind and you can fry it, grill it, or braise it.
Ingredients
1 pound (.45 kg) calamari – cleaned and sliced
1 fresh jalapeño – seeds and ribs removed and sliced
6-8 kalamata olives – sliced
1 plum tomato – seeded and finely diced
1 cup all purpose flour
1 teaspoon – paprika
2 – 3 teaspoons – dried herbs de provence or dried Italian seasonings
1/2 teaspoon – chili powder (optional)
1 quart (946 ml) canola oil heated to 180C/350F – or drop a small piece of bread in the oil and if it sizzles, it's ready. 
Season with salt and pepper
Instruction
In a small mixing bowl mix the flour with the seasonings and herbs.
Season the calamari with salt and pepper. Working in small batches add them (and some of the jalapeño) to the flour mixture, coat well with the flour mixture and add them to the hot oil.
Cook for about 1 minute or so or until the calamari is opaque and the coating is golden.
Remove from the oil with a slotted spoon and place on absorbent paper towels. Repeat until all the calamari and jalapeño is cooked.
Place the calamari in a bowl along with the jalapeño, the tomatoes and the olives. Serve alone or on greens with tomato sauce or as I've done here with a sriracha/mayo sauce. For this sauce simple add a few squirts of hot sauce to mayonnaise until you reach the desired spiciness.
Garnish with a small dice of tomato and serve with lemon wedges.