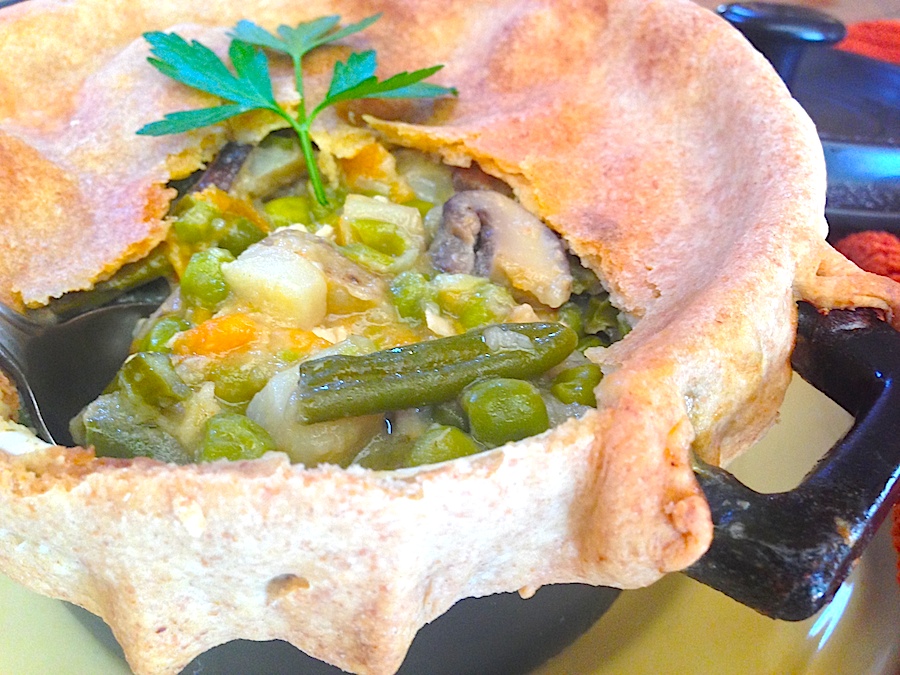 These gluten free chicken pot pies came out so good that even my gluten loving daughter ate it up. The filling was flavorful, loaded with chicken and veggies (not like the ones you buy pre made at the store) but more impressive was the crust – light and flaky!
Of course you can also use all purpose flour instead of the gluten free and follow the same instructions.
This recipe is for four individual pies made in cocottes which are simply bakeware with a lid. They come in all sizes and are great to serve soups and stews in them…or chicken pot pies. It you don't have cocottes, bake the pies in a single casserole or deep pie plate and instead of dividing the dough into four pieces, roll out one large piece.
Ingredients for the crust – four individual pies
1/2 cup quinoa flour
1/2 cup rice flour
1 tsp. xanthan gum
4 tbs. butter
2 tbs cold water
Ingredients for the filling
1 sweet potato – peeled and medium diced
1 cup crimini mushrooms – 1/4 inch slices
1/2 cup sweet onion – medium diced
1/2 cup celery – medium diced
1/2 cup carrots – peeled and medium diced
1/2 cup green beans – sliced into 1 inch pieces (approximate)
1/2 cup asparagus – sliced into 1 inch pieces
1/2 cup baby peas – frozen
3 tablespoons GF flour
3 tablespoons butter
3 cups chicken broth
2 cups cooked chicken – shredded
1/4 cup cream or half and half
1/4 cup olive oil
Season with salt and pepper
Add a spindling of herbs de province (or your favorite dried or fresh herbs)
Instructions for the Crust
Sift the flours and the xanthan gum together, add butter and cut it into the flour mixture until it looks like small pebbles. Then add 2 tbs water and knead into a smooth dough. If too dry, add more water a teaspoon at a time until the dough comes together.
Divide into four equal pieces, cover with plastic wrap and refrigerate for at least 30 minutes. Remove from the refrigerator and roll into a thin circle about an inch larger than the cocotte.
Instructions for the Filling
Place a large saute pan over medium heat. Add the oil (enough to cover the bottom of the pan) and heat until hot but not smoking.
Add the carrots, celery and onions and cook until they begin to soften (about 5 minutes). Add the potato and beans and cook for about 5 minutes or until they begin to soften.
Add the mushrooms and asparagus and cook for about 3 or 4 minutes. Remove the vegetables from the pan, leaving behind the liquid, and add them to the cocotte along with the chicken and the herbs.
Add the butter to the to the remaining liquid in the pan. Add the 3 tbs of flour and stir to incorporate (this is the roux). Cook for about a minute and slowly add the broth, a bit at a time mixing with a wire whisk to incorporate as you go. Bring to a boil, lower the heat to a simmer. Add the cream and simmer for about 5 minutes or so.
Assembly and Baking
Add the gravy to the cocottes with the veggies and chicken and stir. Cover with the dough. Pinch (or trim) the edges around the cocotte and make slits on the top for the steam to escape
Bake in a preheated 350 degree oven for about 20 minutes or until the crust is golden