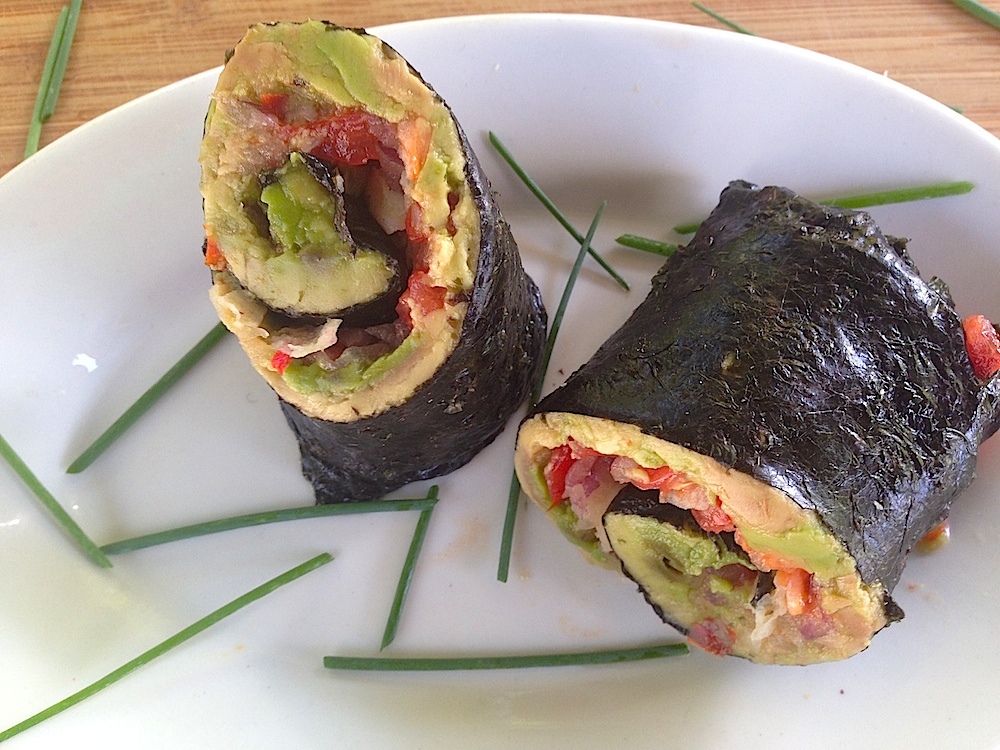 I've found during my 20 years as a professional chef that the best dishes happen intuitively.
This recipe came about as I was making a typical veggie nori roll, because I wanted to use an avocado that would soon be overripe.
So I got out all the ingredients I had on hand: carrots, scallions, zucchini, avocado, tomatoes, etc.
Then I cut the avocado in half, scooped it out and mashed it onto the nori sheet with my hands, added the tomatoes and then realized I'd pretty much made guacamole!
So I ignored most of the veggies and instead grated a red onion, chopped a jalapeño real fine, added a squeeze of lemon and some parsley, and started to roll it when I realized I needed some crunch.
I grabbed a couple of tortilla chips, smashed them into crumbs, added them to the roll and I had myself a delicious guacamole-nori roll!
Guacamole-Nori Roll
Makes 4 rolls
Ingredients:
2 nori sheets, cut in half
2 ripe avocados
1 roma tomato (or 4 grape tomatoes) finely diced
1/2 red onion, grated
1 jalapeño, finely diced
4 tortilla chips,smashed into crumbs (I used chips with a hint of lime)
Parsley or cilantro, finely chopped
A squeeze of fresh lemon or lime
Salt and pepper to taste
Directions: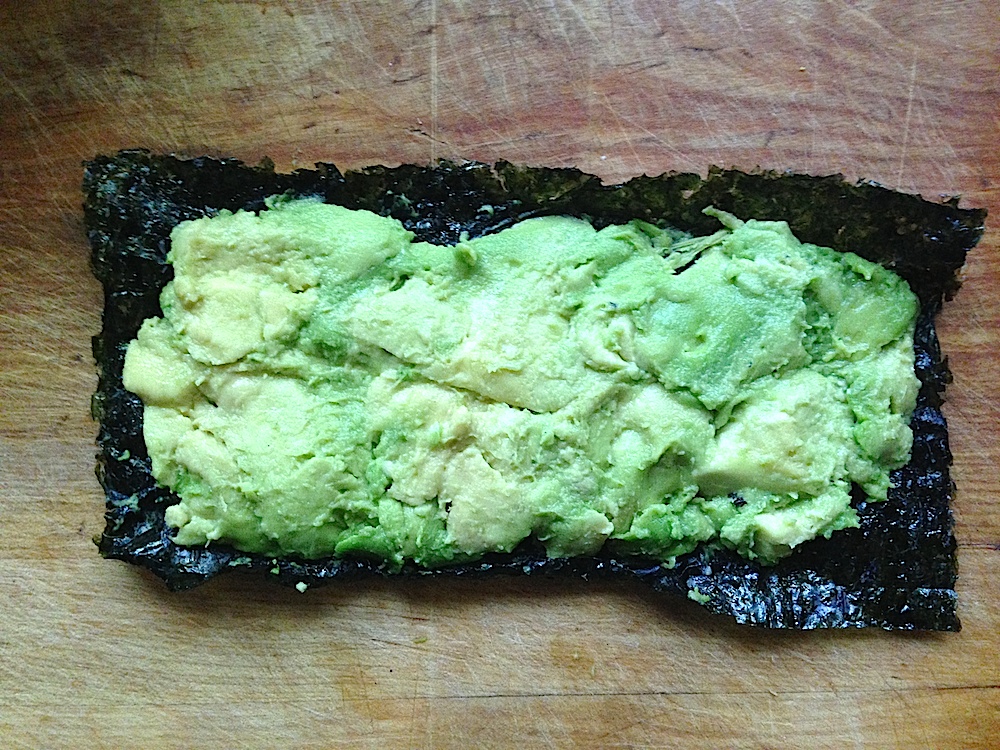 Cut each nori sheet in half for a total of 4 sheets. Place each sheet shiny side down and gently mash half of an avocado onto each sheet.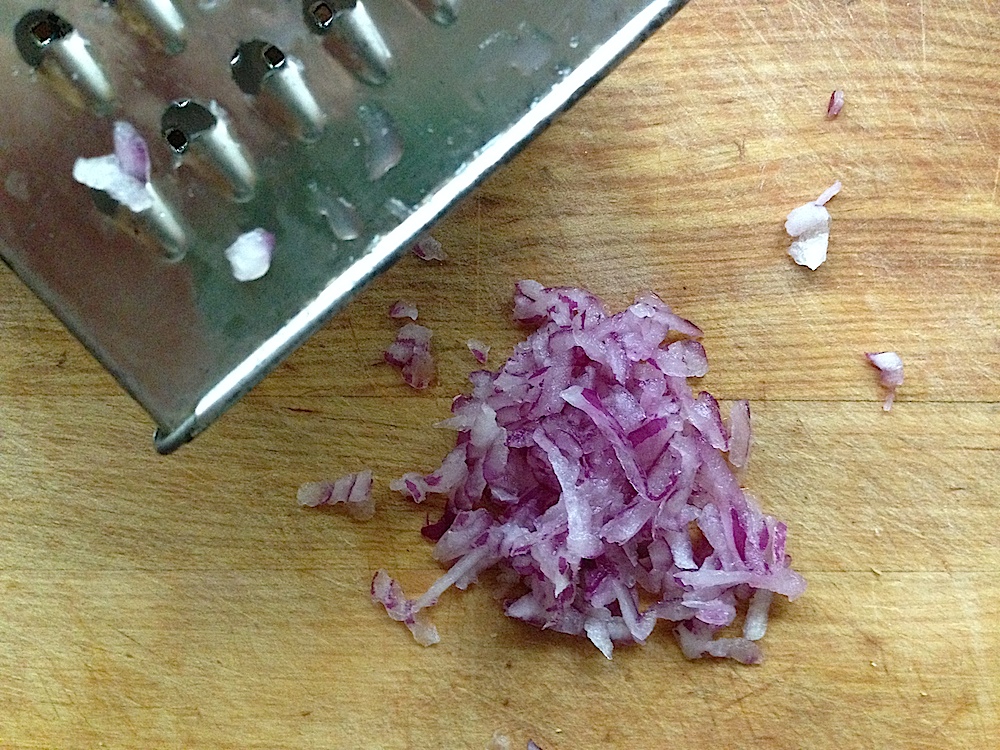 Grate the onion…it's better this way.
Chop the tomato and pepper into a small dice. This helps the roll from falling apart. Crumble the chips into crumbs. Sorry no photo for this but simply place the chips into a shallow bowl and smash them with a mallet (or a can if you don't have a mallet).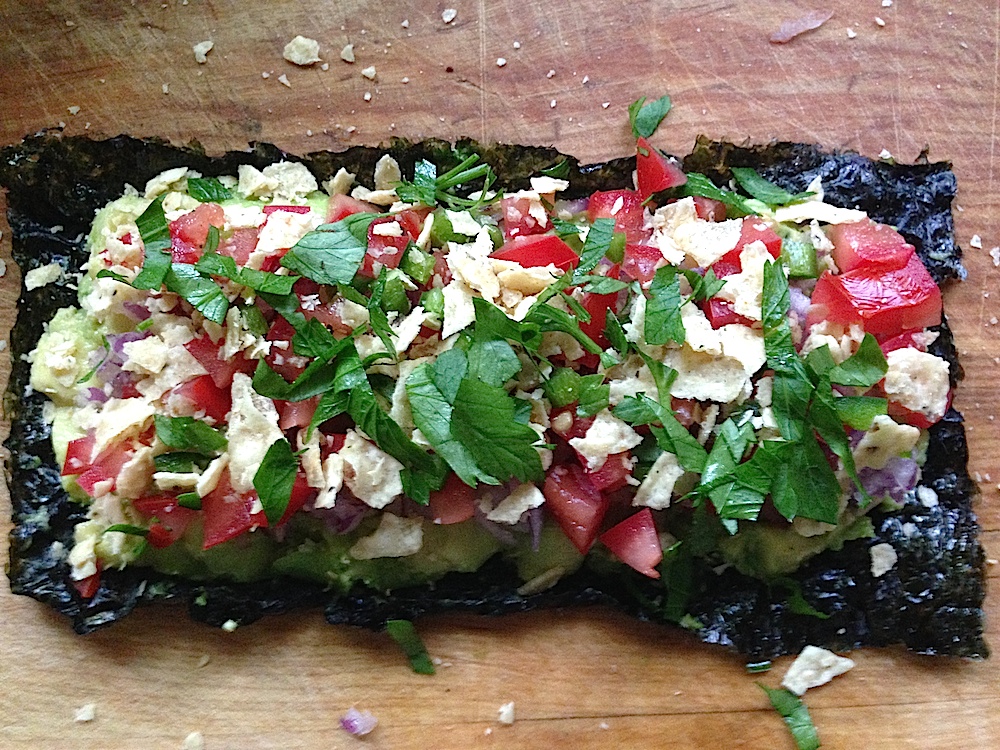 Top the avocado with the 1/4 of the tomatoes, onions, jalapeño, cilantro or parsley and the tortilla chip crumbs.
Season each with a squeeze of lemon or lime, and salt and pepper. Do the same for the other sheets.
Gently but tightly, fold the roll from one of the shorter sizes to the other and then cut in half. Serve with your favorite sauce. I just used soy sauce.
I ate 4 of these babies! So wow your family and friends. I'm soooo glad to help you do just that.
Now help me know if these recipes are what you want.
Please share your comments, your recipes or just some love in the comments below.
Hearing from you encourages me to continue doing and giving. I LOVE HEARING FROM YOU!