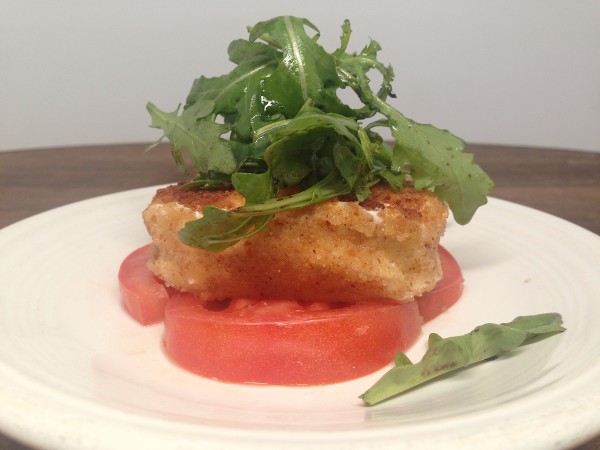 This recipe is a twist on the Caprese Salad which we see on the menus of many Italian restaurants. Though I love a Caprese salad, especially in the summer when tomatoes and basil are at their best. Sometimes though (especially in the winter month I crave melted cheese on almost anything) I want to try it prepared differently,  so I created this version a few years ago and it's remained a classic in my book.
Cut a thick piece (about an inch) of fresh mozzarella (one for each person being served). Prepare your set-up.
A cup of bread crumbs – sprinkled with chopped, fresh Italian parsley and seasoned with salt and pepper
Two eggs + 1/4 cup water – beaten and seasoned with salt and pepper
Next, prepare your serving plates.
Cut 3 slices of tomato 1/4 inch thick for each plate. Top with fresh arugula (or if not available any type of salad greens will do) that's been tossed in oil and balsamic vinegar and seasoned. Set plates aside.
Dredge each mozzarella slice into the egg wash and then coat with the bread crumbs. You can do this twice if you want more crumbs to stick to the cheese.
Place a large non-stick skillet over med/high heat. Add enough olive oil to liberally coat the bottom of the pan. When the oil is hot but not smoking add the cheese slices. Don't overcrowd the pan or it will lower the temperature and the crust will not turn golden. When the cheese turns golden on the bottom side, flip it over and brown on the other and remove immediately onto the prepared plates.
Serve immediately
Ingredients
Mozzarella (one slice per person)
Tomatoes – Slicing or Roma (3 slices per person)
Arugula – or other salad greens (small handful per person)
Breadcrumbs – unseasoned or use grated rice (or other gluten-free) crackers
2 eggs – beaten with a splash of water
Extra virgin olive oil – 3 tablespoons
Balsamic vinegar – 1 tablespoon
Salt and pepper to taste.