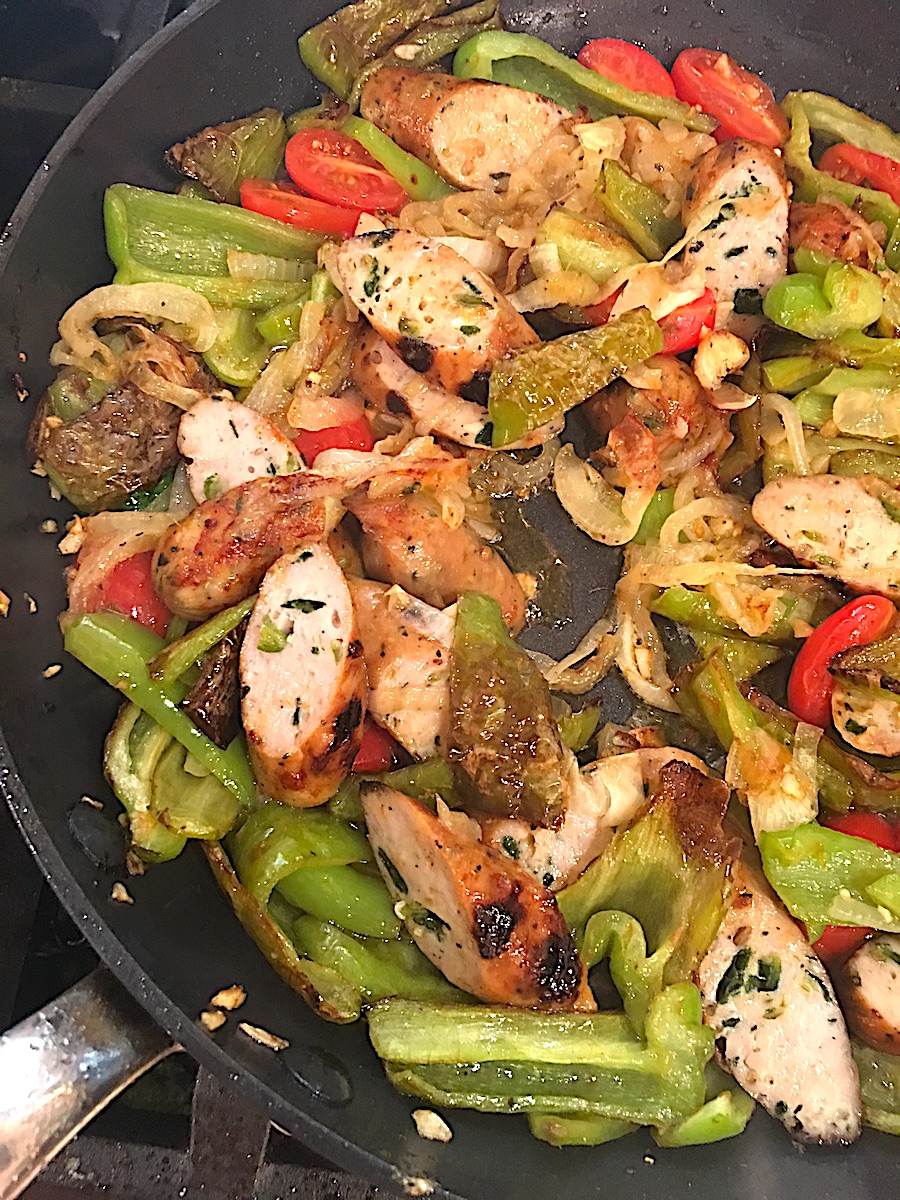 Sausage, Peppers & Onions is an Italian Classic. It's a favorite of large family gatherings as well as street and country fairs. I love it! And because I love it I created another version to enjoy. This one has caramelized onions and grilled chicken sausage stuffed with spinach and mozzarella cheese. Oh my it was so good. Serve it over pasta, rice, alone…or in a sandwich of crusty bread!
Ingredients
1 lb. (.45 kg) sausage of your choice – parboiled for 10 minutes and split in half, lengthwise
5 – 6 cubanelle peppers – ribs and seeds removed and cut into strips
5 – 6 sweet onions – cut thin
12 small grape tomatoes – split in half lengthwise
4 tablespoons olive oil – or enough to lightly cover the bottom of the pan
1 medium clove garlic – finely diced
Pinch of red pepper flakes
Splash of chicken broth
Instruction
Start by cooking the onion. Place a skillet over low heat, add half the olive oil and the onions. Cook until softened and caramelized, about 45 minutes. Stir occasionally. Make extra if you like and store in the fridge ready to add to sandwiches and omelets.
While the onions are cooking, place the boiled, split sausage on the grill until thoroughly cooked (about 10 minutes) Remove and slice into bit sized pieces.
Place a large saute pan over medium heat. Add the remaining oil or enough to lightly cover the bottom on the pan. Add the peppers and cook until they begin to wilt. Add the garlic and crushed pepper and cook until it begins to color, about 30 seconds. Add the tomatoes, cook for a minute. Add the sausage and a splash of broth. Add the onions and cook for a minute or two more. Remove from the heat and serve.