Regardless of who hosts Thanksgiving in my family, I'm always asked to make the stuffing. It's become a family classic – it's so flavorful, easy and different. I made this with sweet Italian sausage but you can use hot or a combination. I also spiced it up with a few pinches of crushed red pepper but you can leave that out if you have little ones.
This recipe is enough to stuff a very large (20 lbs or more) turkey but you can easily cut the recipe in half or thirds. I always make a lot and bake separately whatever doesn't fit in the turkey.  Serve it with the mushroom gravy below and this will surely become a family classic in your house too.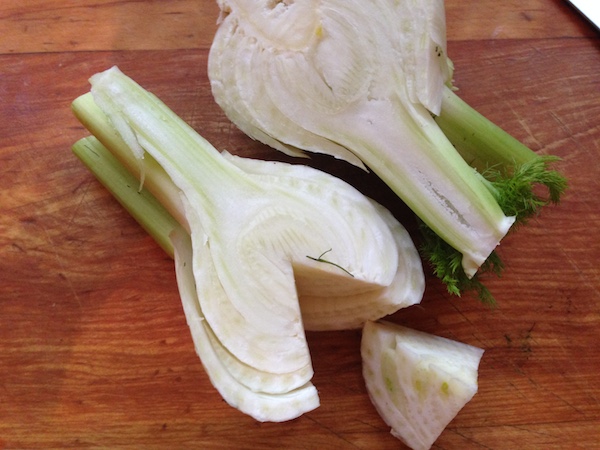 Start by removing the center core of the fennel.
Next slice it thin, horizontally and then into a dice. Do the same with the onion.
Remove the sausage from the casing and set aside.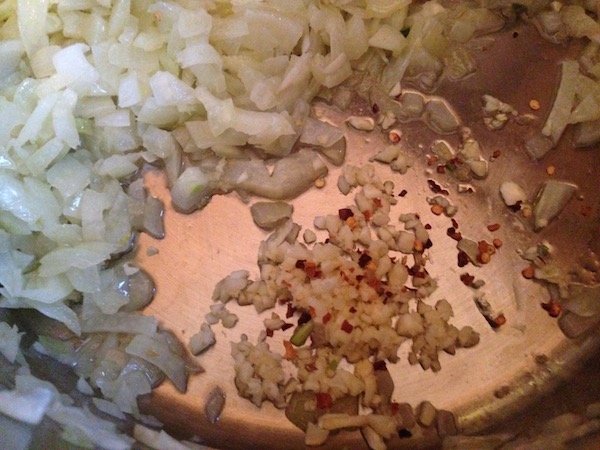 Cook the fennel and onion in olive oil over medium heat until softened (about 5 minutes) then add the garlic (and a bit of crushed red pepper for a little heat if you like) until golden (less than a minute).
Then add the sausage and cook until browned. Make sure to keep the meat in bit sized pieces. This gives them more bite rather than when broken into tiny pieces like chop meat.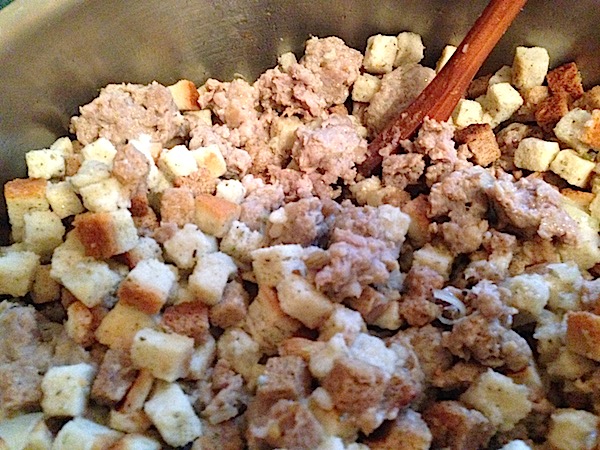 Next you'll need the stuffing and the broth. Add the corn meal (or bread stuffing if you prefer) along with the broth (a bit at a time) and stir until the whole mixture is moistened. Add more or less broth as needed.
Finally you'll end with a mixture that looks like this. Finnish with fresh chopped parsley and stuff your turkey. My family can't get enough of this. I think your family will feel the same. It's not pretty…but it sure tastes good!
As an extra bonus I've included my recipe for mushroom gravy. It will make your turkey and mash potatoes
something to be remembered…not to mention what it'll do for your leftovers. Enjoy and Happy Thanksgiving.
Ingredients
4 lb. Italian Sausage
3 – 14 oz package of corn bread stuffing (or bread stuffing if you prefer)
1 fresh fennel bulb (sliced thinly and diced)
1 large sweet onion (medium dice)
¼ cup of olive oil
1 large fresh garlic clove (medium dice)
4 cups chicken broth (or as needed)
Pinch of crushed red pepper (optional)
Finish with a about ¼ cup of fresh chopped Italian parsley
Mushroom Gravy
I like to use a mixture of baby bella and shitake mushrooms but fell free to use your favorites
Wipe the mushrooms clean of any dirt with a moist towel. Slice the baby bellas into quarters and the shitake into ¼ inch slices.
In a curved bottom sauté pan over medium/high heat cook the mushrooms until golden and slightly softened. Add a bit of chopped fresh garlic if you like, the last few seconds of cooking to prevent it from burning. If you find the pan too hot, remove immediately from the heat and splash with a bit of chicken broth or water. Remove the mushrooms from the pan and set aside.
In the same pan combine about ½ cup of turkey drippings with ½ cup of flour. Cook over medium heat stirring until it makes a golden/brown paste. Continue cooking in order to cook off the raw flour for a couple of minutes, stirring constantly to prevent burning.
In the meantime, gather a pitcher of pan dripping from the turkey and another with chicken broth. Add a splash of each to the paste and stir. Continue stirring and adding the broth and drippings until to get a gravy with the consistency you like. Lower the heat to a simmer and cook for about another 10-15 minutes or until you can no longer taste the flour. Add more broth if it gets too thick. Add the mushrooms to the gravy and keep warm