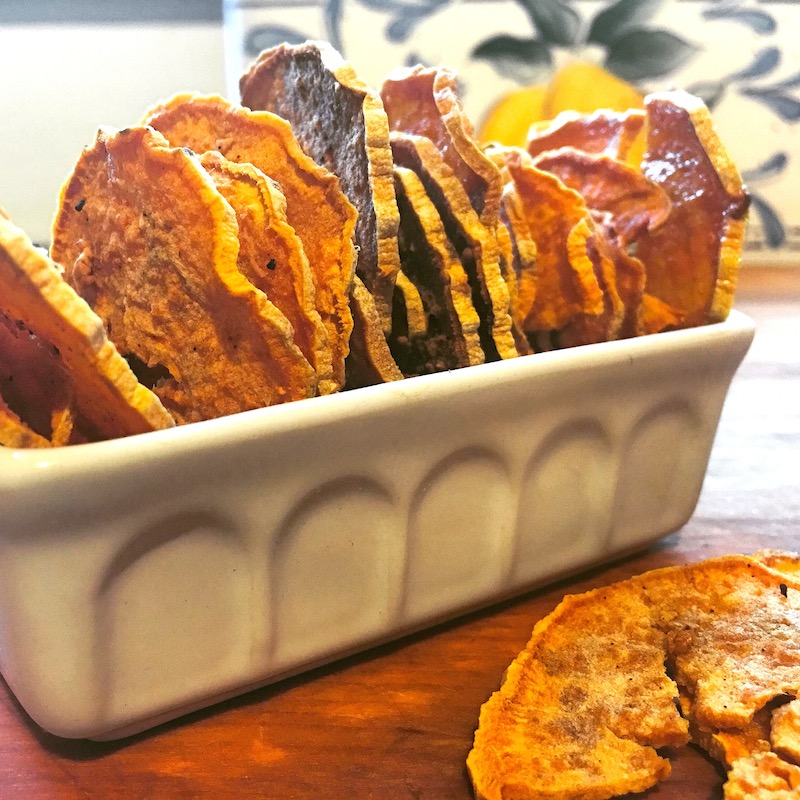 Veggie chips are yummy and so fun to make. Make them with your kids and watch them gobble up what they had a hand in creating. Great way to get them to eat their veggies.
To make these and other veggie chips the recipe is pretty much the same: cut them thin and cook them slow. The specifics will depend on the particular vegetable. For instance I made zucchini chips and cut them the same way as I did for these sweet potatoes – using the wide blade of a spiralizer – which cuts them about 1/8 of an inch. However, zucchini has a much higher water content than sweet potatoes so they have to be patted dry first and watched a bit more carefully…but sweet potatoes are easy: cut, season and bake.
Ingredients
1 or 2 sweet potatoes – peeled and cut in 1/8 inch slices using a mandolin or spiralizer
1 small clove garlic – finely chopped
About 1/4 cup extra virgin olive oil (depending on how many potatoes you cut)
Salt, pepper and a dash of paprika
Instructions
Preheat oven to 200 degrees F (93.3 C)
Place the cut rounds of potato in a single layer on a parchment paper lined baking sheet. They will shrink so you can place them so that they touch but don't overlap. One potato will cover one baking sheet.
Place the oil and seasoning in a small dish and with a pastry brush, lightly brush the potato slices.
Bake for about 1 1/2 hours or until the slices are crispy. Flip to the other side after about an hour of baking.
Serve immediately with your favorite dip or cool and store in a zip lock bag.