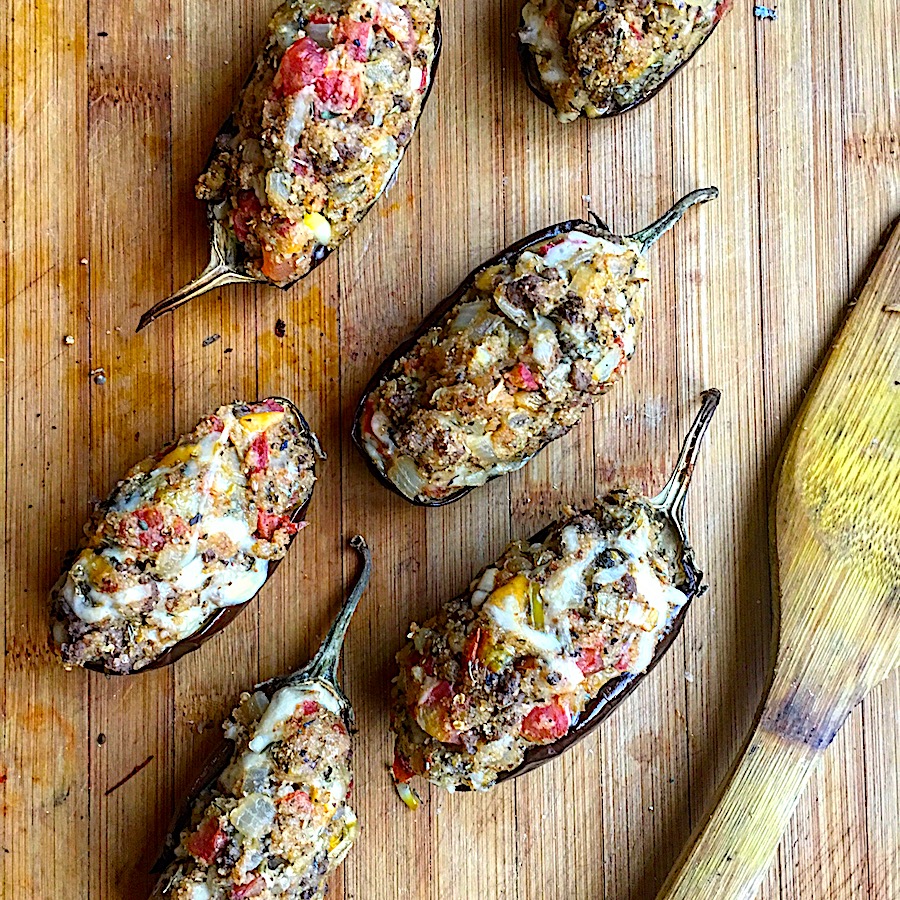 Recently I found the cutest baby eggplant at the supermarket. I couldn't bear to simply cut them up and sauté them like I usually do…so I decided to stuff them. Now if you google recipes for stuffed eggplant you'll notice that many have you carve up the pulp of the eggplant, cook it. Mix it with other ingredients. Stuff it back into the eggplant then bake it.
I find this far more difficult than it needs to be. I instead cut the eggplant in half. Bake, scoop, stuff, and bake again. Scooping the pulp is easy once they're baked and of course you can mix the eggplant with any number of ingredients, but since I had some chopped beef on hand, I used it along with some onions, tomatoes, garlic and cheese. It was so good I ate them cold right out of the fridge.
Ingredients
5 baby eggplant – cut in half lengthwise
8 – 10 oz. (227 g +) of chopped beef
1 small onion – diced
14 or 15 oz (about 400 g) can diced tomatoes
Enough olive oil to lightly cover the bottom of the pan
1/2 cup (64 g) breadcrumbs or panko
1 medium garlic clove – finely chopped
1/2 cup grated cheese – I used mozzarella and cheddar
Instructions
Cut eggplant in half lengthwise. Bake in a preheated 375 degree (190.5 C) for about 15 to 20 minutes or until the eggplant can easily be pierced with a fork. Remove from the oven. Scoop out the pulp, leaving the skin in tact. Side both aside.
Place a medium skillet over medium heat. Add oil. Heat until hot but not smoking. Add onion and cook until they begin to wilt followed by the meat and cook until browned. Add the garlic and a pinch of crushed red pepper for heat if desired and cook for about 30 seconds until it begins to color and follow with the tomatoes. Let everything cook for about 5 minutes, then add the pulp of the eggplant.
Cook for a minute or so to blend it all in and follow with the breadcrumbs and cheese. Stir and remove from the heat.