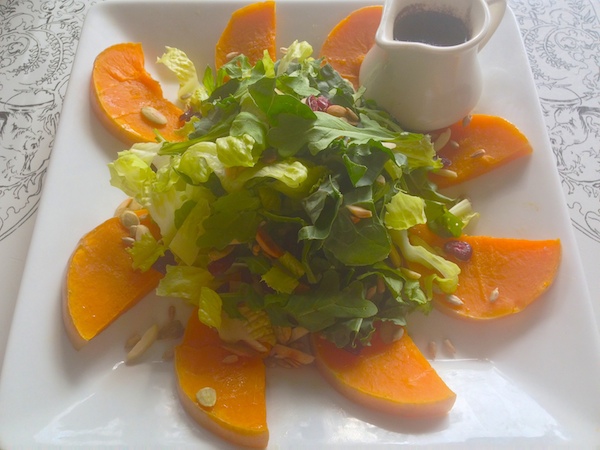 I think I need to eat more greens. Too many carbs over the holidays have me craving a crispy salad. But it has to be interesting. It has to fill me and be satisfying. After so much delicious food, I just can't settle for a plain old salad. My taste buds want more than that … which is why I came up with this particular combination.
It's interesting and pretty.
It's filling and satisfying.
It's totally good for you.
It's downright delicious.
Winter Squash Salad With Toasted Nuts & Cranberries
Serves 4
Ingredients
1 small butternut (or other winter squash) — sliced in half, seeds removed and sliced in half-inch pieces
1/2 cup of seeds – pumpkin and sunflower (or other seeds of your choice)
1/2 cup slivered almonds
1/2 cup dried cranberries
8 cups mixed greens (romaine, kale, arugula, or mixed field green)
3/4 cups extra virgin olive oil
1/4 cup good quality balsamic vinegar
1 sprig fresh parsley — stems removed and chopped (optional)
Preparation
Place the slices of squash in a single layer on a lightly greased baking tray and bake in a pre-heated 375 degree oven for about 25 to 30 minutes or until the squash can easily be pierced with a fork. Don't worry about peeling the skin—it's thin and soft and roasts beautifully.
In the meantime, place a large sauté pan over medium/low heat. Add the nuts and almonds and toast them in the pan, stirring often so they don't burn and toast for about 5 minutes or so, until they reach a golden color. Set aside while you prepare the dressing
In a large mixing bowl, add the vinegar. Slowly, drop by drop, add the oil while whisking briskly. This will cause the dressing to emulsify. Once it begins to thicken, you can add the oil a little faster (in a steady stream).
Season with salt and pepper and some fresh chopped parsley if you like. You'll have lots of dressing left over and it keeps for weeks in the fridge.
When the squash is cooked, remove from the oven and let it cool a bit. But serve it while it's warm—makes a nice contrast to the cool greens.
To plate
Arrange the squash on individual plates; place about 2 cups of greens in the center; top with nuts, almonds and cranberries; serve you favorite dressing on the side.
As featured on Mind Body Green