Maybe it's the deep freeze here in the northeast corner of the US, but I'm still craving some comfort food. Or maybe it's because last week it was salads? But tonight, I went South…and made some biscuits and sausage gravy.
The biscuits had a firm, golden crust, but were soft and light on the inside. The gravy was velvety smooth and full of flavor. I cut each piece easily with my fork, lapping up bits of fennel scented sausage as I dragged each bite across my plate gathering gravy as it made it's way into my mouth. I was in heaven!
I was comforted body and spirit – both by seeing the magic of how a few common ingredients can so easily become something so exquisite, and the pleasure of eating it.
I was reminded once again of the alchemy of cooking – that every moment I spent in the kitchen mindfully….
I was The Alchemist.
And for my gluten-free friends, I promise I'll work on a GF version of this. You shouldn't have to miss out on something this good.
But before you run to your kitchen to make this deceivingly simple dish, make sure you check out my….
Sunshine Salad with Toasted Nuts and Cranberries. It'll make you smile and chase away any passing clouds.
So talk to me. Let me know if you make this and how it turns out. Did you enjoy it as much as I did? Or maybe you made something you'd like to brag or ask about. Leave a comment below.
Or maybe you have some requests. Anything you're craving? Let's talk food…or spirit.
They're the same thing…or could be…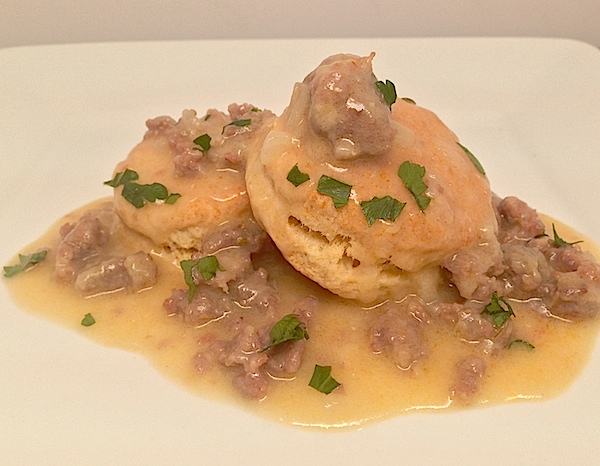 Biscuits and Gravy
Ingredients (makes about 18 2 inch biscuits)
3 cups unbleached white flour
1 cup buttermilk
1/2 cup butter – room temperature
I tablespoon sugar (optional)
2 1/2 teaspoons baking powder
1/2 teaspoon baking soda
1/2 teaspoon salt
Instructions
In a large mixing bowl sift together the flour, sugar, baking powder, baking soda and salt. Add butter in tablespoon pieces and cut into flour with a fork until all the butter is combined and the flour looks crumbly.
Add buttermilk a bit at a time and mix into the flour. Transfer dough to a lightly floured board and knead a few times. Don't over knead. It shouldn't be smooth. Roll with a floured rolling pin to about 1/4″ thick.
Cut with a 2 or 2 1/2 inch round cookie cutter. Gather together the leftover pieces and knead together and cut a few more biscuits.
Place the biscuits on a lightly greased baking sheet (brush tops with more butter if you like) and bake in a pre-heated 400 degree oven for about 20 minutes or until the tops are firm and golden.
The Gravy
8-9 ounces of Italian sausage – casing removed (broken into pea sized pieces)
1/4 cup chopped onions – medium dice
2 – 3 tablespoons olive oil
3 tablespoons flour
2 cups chicken broth
Splash of cream
Torn parsley for garnish
Place a medium saute pan over medium/high heat. Add onion followed by the sausage bits. Cook until sausage is browned (about 3 minutes).
Add flour and stir into a paste. Slowly add the broth and stir to incorporate. Lower the heat and simmer for about 10 minutes until you get a smooth, velvety texture and the raw flour taste is gone.
Finnish with a splash of cream and cook for a minute more. If too thick, add a bit more broth or cream.
Pour over the biscuits and eat your heart out.