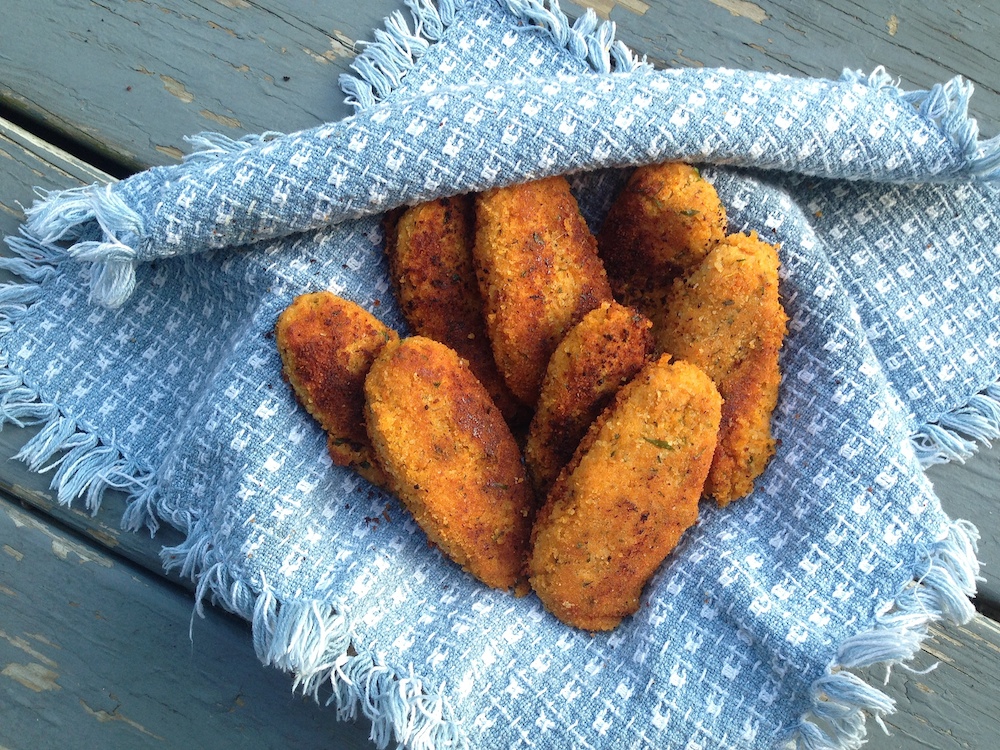 Growing up, I knew we were in for a treat when my mother made potato cakes from leftover mashed potatoes. She had to hide them because they'd be gone in a nanosecond if she didn't.
I often made them for my own children, and at family gatherings someone always requests them, so this past weekend I made these traditional cakes and posted them on my Facebook page. It drew out a slew of Italian friends who remembered them fondly from their own childhood and started a wave of nostalgia.
I promised to try making them with sweet potatoes so that those of us who only indulge in potatoes once in a while (or not at all) could still enjoy these special treats.
Since sweet potatoes are far moister than regular potatoes, eggs weren't necessary, which means they're also vegan. I did, however, have to add plenty of breadcrumbs so that they'd hold their shape. With the addition of nutritional yeast, these cakes are genius.
They're great eaten cold, right out of the fridge, and you can make them ahead to bring to a backyard barbecue or picnic. Enjoy and share these with family and friends.
Ingredients
Makes about 9 cakes
2 large sweet potatoes, peeled and cut in wedges or similar size pieces
1 cup gluten-free breadcrumbs + more for dredging
2 Tbsp nutritional yeast
1 medium clove garlic, finely chopped
1/4 cup flat Italian parsley, stems removed and chopped
1/4 cup olive oil or avocado oil (or whichever oil you prefer)
Season with salt and pepper
Directions

Boil the potatoes until easily pierced with a fork. Drain, mash and refrigerate until cool.
Add the breadcrumbs in portions. You want to add enough to make the sweet potatoes easy to handle and form into a cake. I had a little over 2 cups of mashed sweet potatoes and used 1 cup of breadcrumbs to reach the right consistency.
Season with salt and pepper and add nutritional yeast, garlic and parsley. Form into cakes. (I used 1/3 cup of this mixture to form each oval shaped cake. I then flattened the bottoms and tops so they would get an even, crunchy surface when pan frying.) Dredge in additional breadcrumbs and set aside.
Place a skillet (one with a flat bottom) over medium/high heat and add enough oil to generously cover the bottom of the pan. Heat until hot but not smoking.
Working in 2 batches, place 4 or 5 cakes into the hot oil and cook until golden and crispy, leaving them undisturbed until ready to flip — about 2-3 minutes on each side.
Drain on paper towels. Serve at room temperature or refrigerate and serve cold.