I've been loving playing with Thai dishes…especially stir fries. I suppose it's because I'm so used to saute that a stir fry is a natural for me because it's really the same thing…food cut into similar size pieces and cooked in a small amount of oil, usually over high heat, and which the pan juices and bits are usually incorporated into a sauce.
The tricky thing about any stir fry or sautéed dish is knowing what to add to the pan first so that it all gets done at the same time without overcooking some of the ingredients and undercooking others. This dish not only tastes great, but will give you practice in that regard.
Feel free to use any assortment of veggies. These are simple what I had in my fridge but they worked next. I may leave out the mushrooms next time, simply because any time you add mushrooms to a sauce or liquid, they get mushy and I prefer them crispy
Ingredients
1 lb (.45 kg) sirloin or other beef – cut into finger sized strips
1 small zucchini – cut into finger sized strips
1 small yellow squash – cut into finger sized strips
1 large red bell pepper- cut into finger sized strips
1 medium onion – cut into finger sized strips
Handful of mushrooms – I used shiitake but you can use anything you like
Extra virgin (or sesame) oil to lightly cover the bottom of the pan
Garnish with fresh cilantro
Sauce
!/2 cup soy sauce
1/2 cup chicken broth
2 tablespoons packed brown sugar
2 tablespoons sherry
2 teaspoons fish sauce
1 large garlic clove – finely chopped
1 medium piece (about the size of a walnut) fresh ginger – peeled and finely chopped
A pinch or two of crush chili flakes for heat
Juice of one medium lime
2 tablespoons cornstarch + 1/4 cup water, mixed and set aside
Your prep work….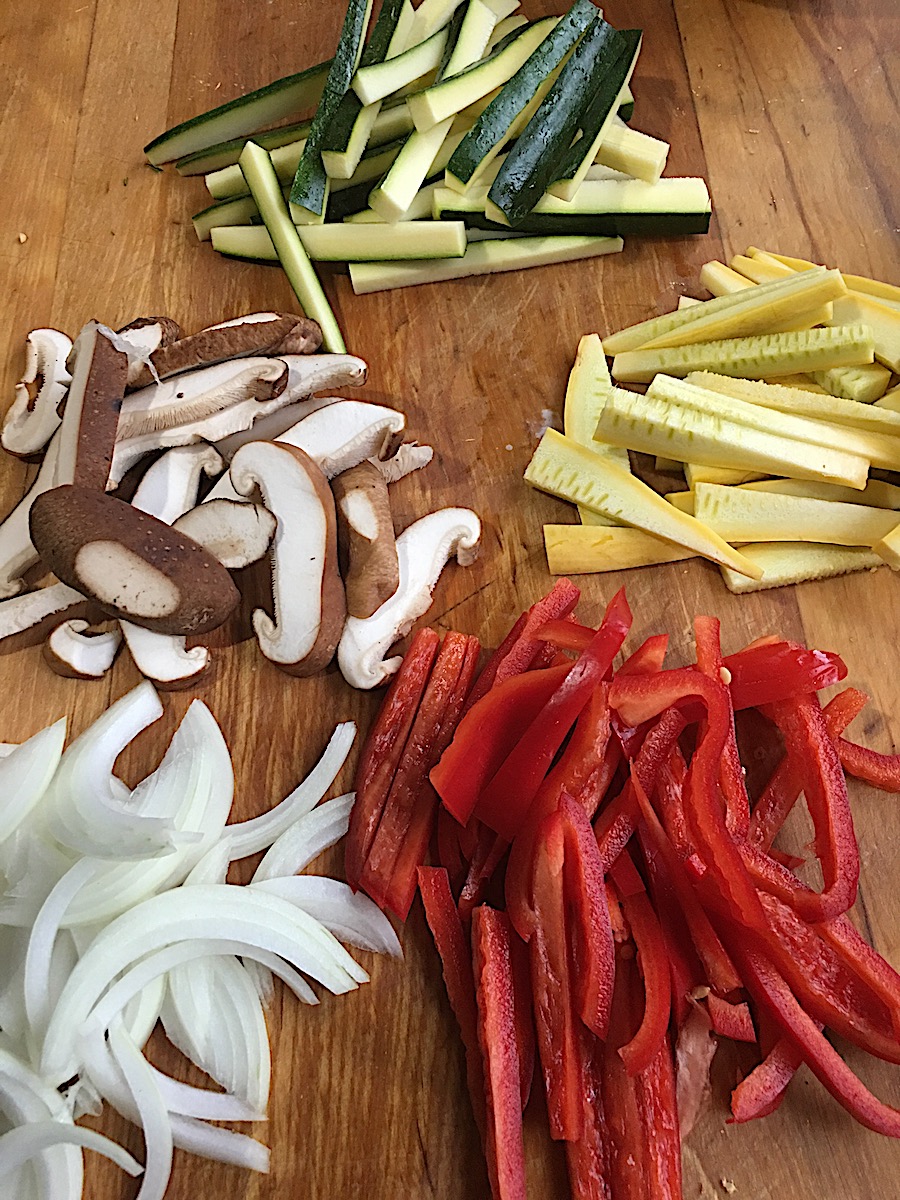 Place a large skillet or wok over medium/high heat, add oil and heat until hot but not smoking. Add the mushrooms and cook for about a minute or just until they begin to color followed by the peppers and onions and cook them for about a minute until they begin to color.
Add the zucchini and yellow squash last because they release their liquid when they cook so you want to add the other veggies first so they brown a bit.
Cook all the veggies for about 5 minutes or so…just until they soften but are still crispy to the bite, remove from the pan and set aside.
In the meantime mix all the ingredients (except the cornstarch and water) in a small bowl to make the sauce but reserve a bit of the garlic, ginger and pepper flakes. Moisten the meat with a bit of the sauce liquid.
Heat some additional oil at the bottom of the pan. Add the reserved garlic/ginger/pepper flakes to the hot oil and cook for about 30 seconds before adding the meat. Cook the meat just until browned on all sides (about 2 minutes or so) and remove from the pan and add it to the bowl of veggies.
Add a splash of sherry to lift up the browning in the pan. Add the sauce mixture plus half the cornstarch mixture, reduce the heat to low and let the sauce simmer until it begins to bubble. Let it simmer and thicken for about 3 to 4 minutes, stirring occasionally. Add more of the cornstarch mixture if you want your sauce thicker or a splash of broth if too thick.
Check the flavor. Add more fish sauce if you want to intensify the flavor; more lime or water if too salty and more pepper flakes for more heat.
Return the veggies and meat back to the pan with the sauce. Heat for a minute or two and serve with rice, rice noodles or even zucchini noodles.