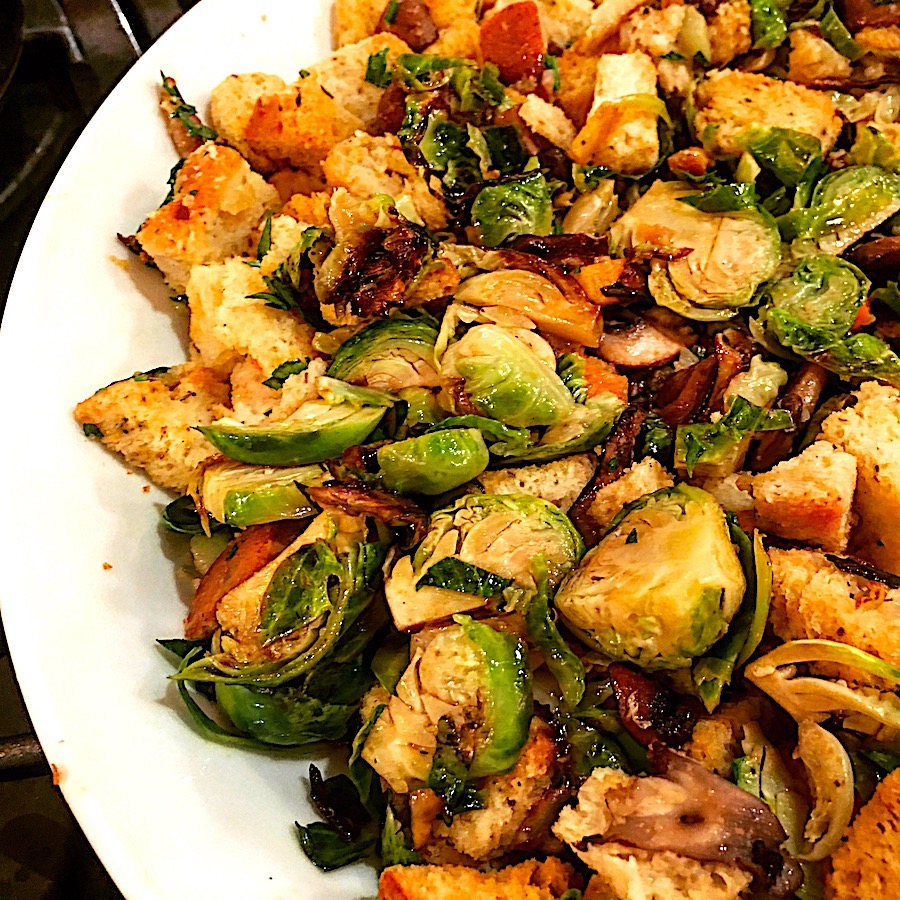 After making at least a dozen different stuffings and serving them up to throngs of people visiting the Williams Sonoma store in my area – who raved about them –  I have definitely come to see that there is an art to making stuffing…and a formula.
So, in the event that you haven't yet decided what your stuffing will be this year, allow me to inspire you. First I will give you the formula, and then suggestions for the art. I do it this way to show you that the basic formula is always the same. The difference and the art is in what you add to the basic.
This top photo is made with sautéed brussel sprouts and mushroom, using a chunky breading.
Recipe for a basic stuffing
1 large onion – diced
3-4 celery stalks – diced
2-3 medium carrots – peeled and diced
1 large garlic clove – diced
1/4 cup of olive oil – or enough to cover the bottom of the pan
1 8oz bag of stuffing bread – choose what you like and know your choice is a make-up of the art
1 quart chicken or turkey broth – or just enough to moisten the bread. * see note
A pinch or two of your favorite dry herbs or a larger amount if using fresh herbs
Instruction
Place a large saute pan over medium/high heat. Add oil and heat until hot but not smoking. Add the first three ingredients and cook until they begin to soften. About 5 minutes. Add the garlic and cook just until it begins to color (about 30 seconds). Place veggies in a mixing bowl, add breading and moisten with the broth. Stuff it in the turkey or place in a baking dish, cover and bake at 350 degrees until the bubbly (about 20 minutes).
This is how I start all my stuffings…a quick saute of diced celery, carrots and onions.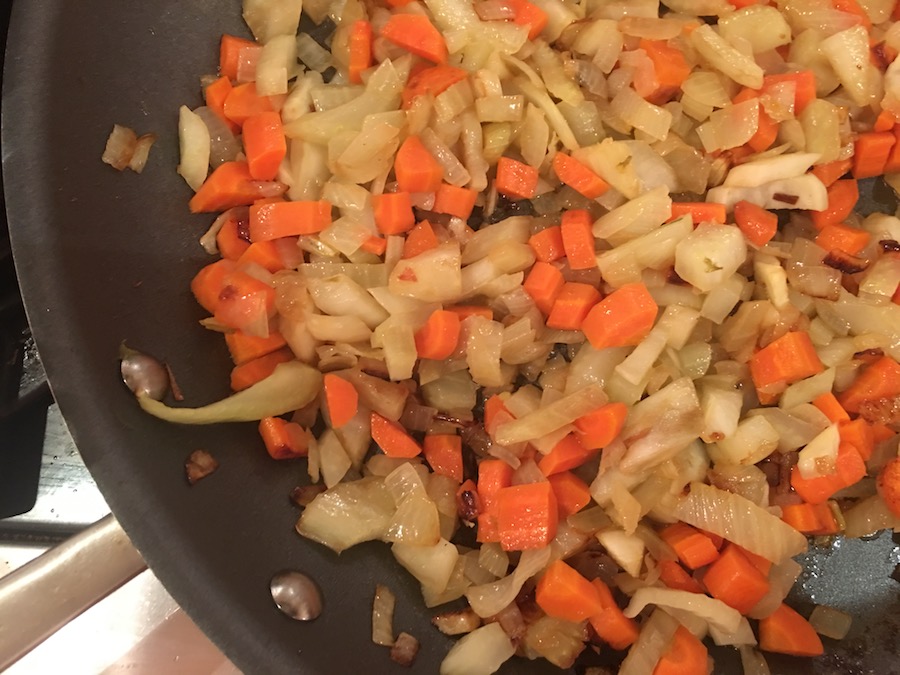 The Artful Variations
The variations can be anything your heart desires. You can add any number of ingredients to the breading mixture to give it your unique flavor. The idea is to dice whatever you're using into a medium dice or slice, saute it in a bit of oil, season it and add it to the basic.
Note: Another way I varied the flavor of the stuffing is by adding a bottle of one of Williams Sonoma's braising or pan sauces to wet the breading instead of using only broth. This worked beautifully and added another layer of flavor to the stuffing…but this is certainly not a requirement for an awesome stuffing.
Brussel Sprouts and Chestnuts
Place a large saute pan over medium/high heat. Add your carrots, celery and onions and cook until golden and softened. About five minutes.
Add the sliced brussel sprouts and cook until softened. Add cooked, peeled and chopped chestnuts. Add contents of the pan to a large mixing bowl. Add breading and enough broth to moisten the bread. Toss, season and place in an oven safe dish and bake in a 350 degree oven for about 20 minutes.
Apples, Cranberries and Bacon
Cook the bacon in the oven until crispy and set aside. Add the diced apples and cranberries to the sautéed onion/celery/carrot mixture in the basic recipe while still in the skillet. Cook for an additional two minutes or so until the apples begin to soften. Add to a mixing bowl with the breading and the broth. Toss and Season. Bake in an oven safe dish for about 20 minutes.
Sausage, Fennel and Pomegranate
Remove the sausage from it's casing and brown in a skillet over medium heat.  One pound of sausage per 8oz bag of stuffing is approximately what I use. In another large skillet cook the diced fresh fennel along with the carrots/celery/onion in the basic recipe. Add the veggies and the sausage to a mixing bowl along with the breading. Add the broth…just enough to moisten the bread. Remove the pomegranate from its pod and toss. Season and place in an oven safe dish and bake at 350 degrees for about 20 minutes.
If you want more explicit instruction on the sausage fennel stuffing (without the pomegranate) you can find it here. This one is the traditional stuffing I make for my family. Sausage/Fennel Stuffing
Note: I've also made these stuffing in a crock pot! They come out great and stay warm all throughout your feast. Some of the latest crockpot allow you to saute and brown right in the pot and then chose your longer setting. If not follow the instructions for these and then instead of baking them in the oven…throw the contents into your crock pot and choose your setting.