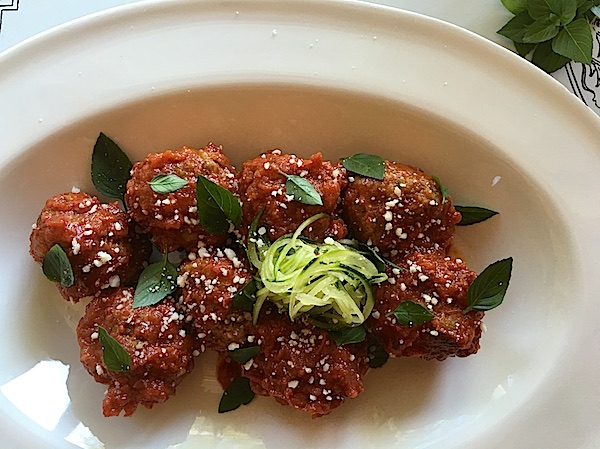 Traditionally meatballs are made with milk soaked bread and egg mixed into the meat so they are less dense and more moist, but you don't have to use bread to do that. I've made them with sautéed eggplant to achieve the same results while adding even more flavor. This time I used spriralized zucchini and achieved fantastic results: soft, moist, and oh so flavorful!
Ingredients
1 pound (.45 kg) mix of beef, sausage and veal
1 medium zucchini – spiralized on the spaghetti setting
a handful of grated parmesan – or to taste
salt and pepper to taste
1/4 cup of olive oil – or enough to just cover the bottom of the skillet
1 batch tomato sauce – click here
Instructions
Mix the meat in a large bowl
Add spiralized zucchini and parmesan
Season with salt and pepper
Form into golf ball sized balls and set aside
Place a large skillet over medium/high heat, add oil and heat until hot but not smoking
Working in batches, brown the meatballs on all sides, just until the form a crust (about 5 minutes) and then remove and place on absorbent paper towels.
In a medium saucepan (4 quarts or more/3.8 liters) make a batch of the tomato sauce, add in the meatballs and cook for about 45 minutes
Serve with pasta or alone. Garnish with parmesan and basil