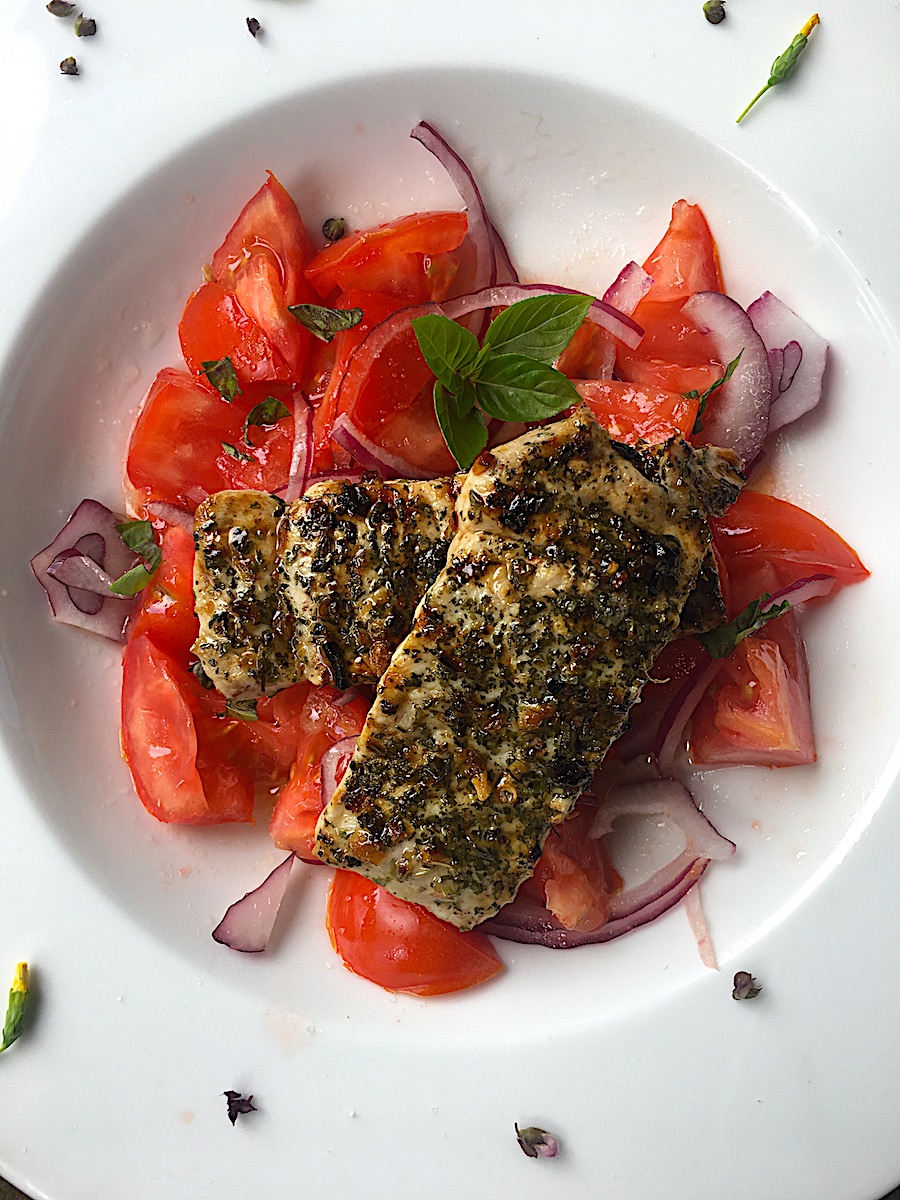 When tomatoes begin to be harvested where I live in the northwest US, (now) I can't get enough of them!! So I always invent new ways to enjoy them. This time it starts with my favorite combo of tomatoes and red onion, dressed simply with olive oil, salt, pepper and fresh basil and topped with herbed sliced pork quickly grilled and served hot over the cold salad!! Perfection!!
What I love best about this recipe is that it starts with the intensely favorable combo of tomato and onions and then is easily adaptable it is for every taste. The protein can be anything. I also made it recently with chicken!
But you can also use shrimp or salmon or other filet of fish. Or maybe tempe or even chick peas! Play with it. You can even add more greens to the tomato/onion combo and eat it alone or add the protein of your choice.
Ingredients for the Salad
Tomatoes – one per person and roughly chopped
Red onions – a few sliced thin slices per person
Extra Virgin Olive Oil – Enough to lightly moisten the tomatoes
Salt & pepper to taste
Garnish with fresh basil
Instruction
Place all ingredients in a large bowl. Toss and let sit for a bit while the flavors meld.
In the meantime prepare a thin cutlet of pork or chicken (or shrimp or filet of fish would work as well) by giving it a light drizzle of olive oil and coat with your favorite mix of dry herbs. I used a mix of: rosemary, thyme, oregano, crushed red pepper and paprika.
Place on a hot grill and cook until cooked through and opaque,  about 2 minutes on each side for a thin piece of chicken or pork but of course this will vary depending on the thickness of your cutlet and the heat of the grill.