Summertime always inspires me to cook with seafood. One of my favorite dishes to make and eat are shrimp rolls. I like them even better than lobster rolls. The shrimp is sautéed in oil and garlic, chopped and added to finely diced celery, tomatoes and slivered romaine, then tossed with a spoonful of basic aioli. #crazygood!
In last year's version, I also added avocado and that was awesome, but today, my avocado was still hard as a rock. You know how that goes…timing is everything!
Ingredients
6 large shrimp per person – cleaned and deveined
1 celery stalk for ever 2 people – cleaned and finely diced
6 grape tomatoes per person – finely chopped
1/2 cup slivered romaine per person
1/4 cup extra virgin olive oil
1 medium clove garlic – finely chopped
Chopped parsley for garnish
1 hot dog roll
Spoonful of Aioli (which is basically a garlic mayonnaise – so use mayo if you prefer)
For the Aioli
1 egg yolk
1 medium garlic clove – finely chopped
1/2 cup extra virgin olive oil
1 teaspoon – dijon mustard
Splash of lemon juice
Tablespoon diced fresh parley and basil
Seasoned with salt and pepper
Instructions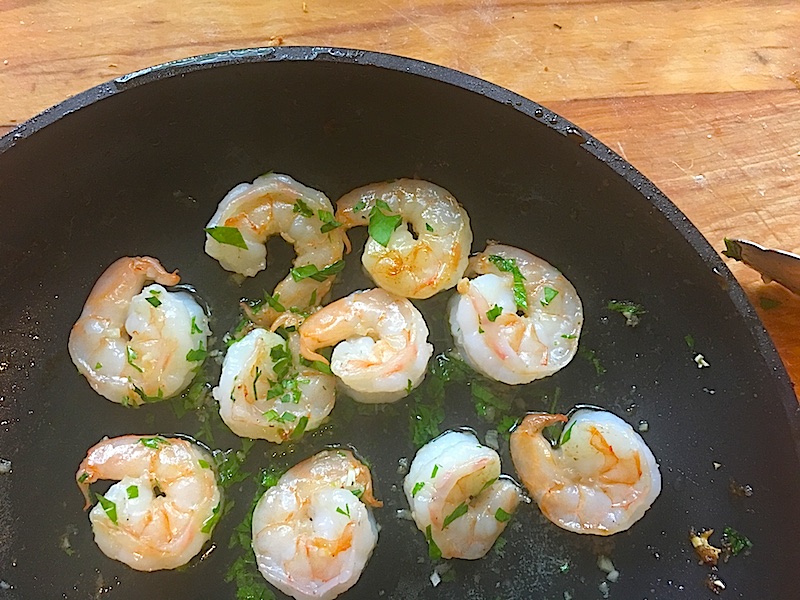 Place a saute pan over medium/high heat, add oil and sauté for about a minute on one side or until they begin to turn opaque. Turn, add garlic (Or leave the garlic out if you plan on making and adding the aioli to this…unless of course you like a lot of garlic like I do. If on the other hand, you use mayo instead of aioli…go ahead and add the garlic at this point.) and cook for another minute just until the shrimp begin to curl and they turn opaque. Finish with some chopped parley and set aside.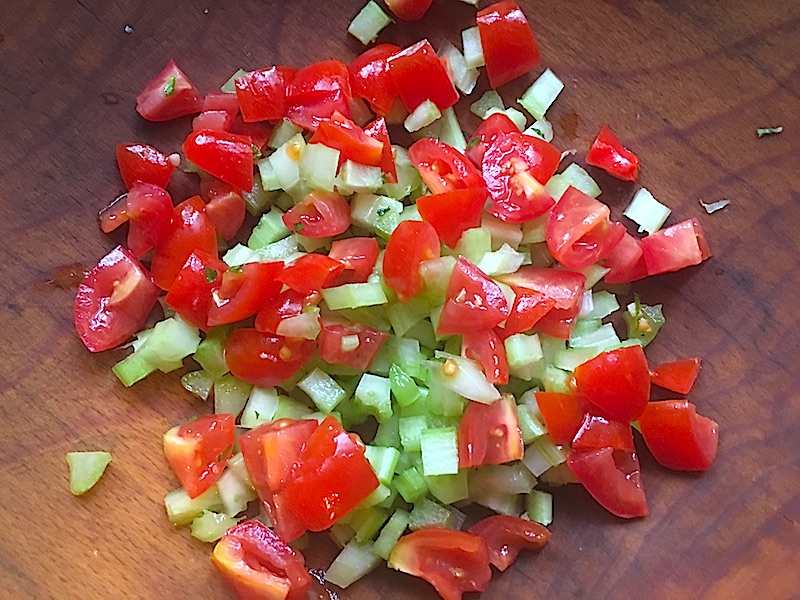 Chop celery and tomatoes and add to a mixing bowl
Dice shrimp and add to the bowl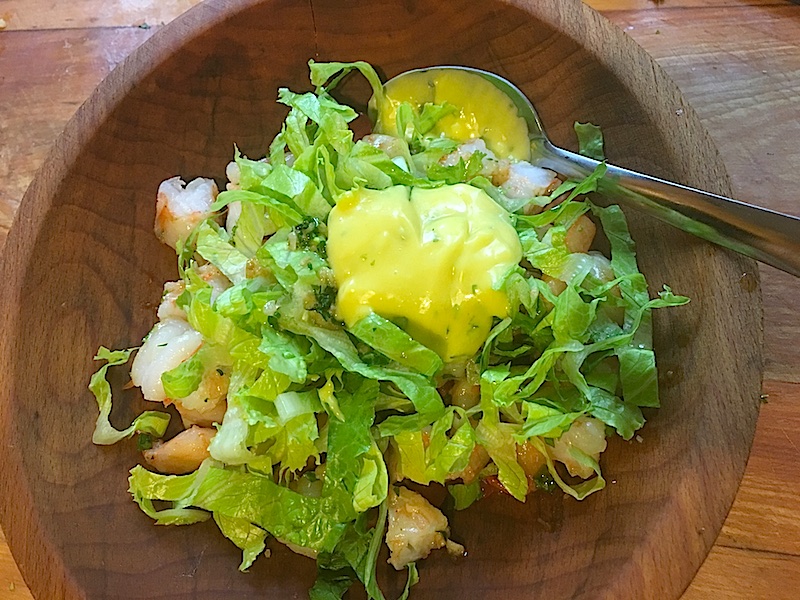 Thinly slice the romaine and add it to the bowl along with a spoonful of the aioli (see below) and toss.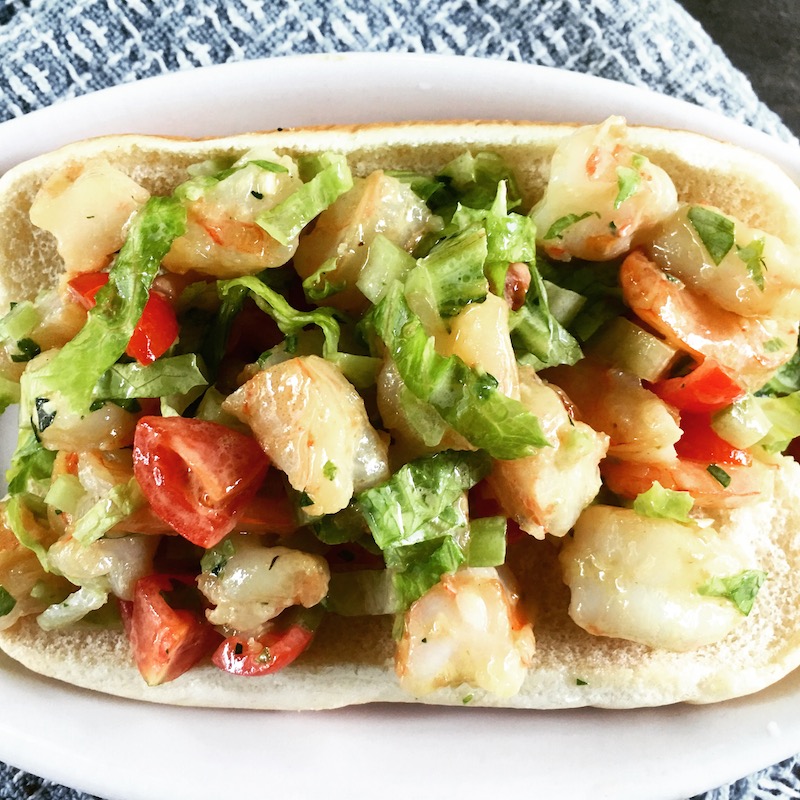 Fill each roll and serve!
For the Aioli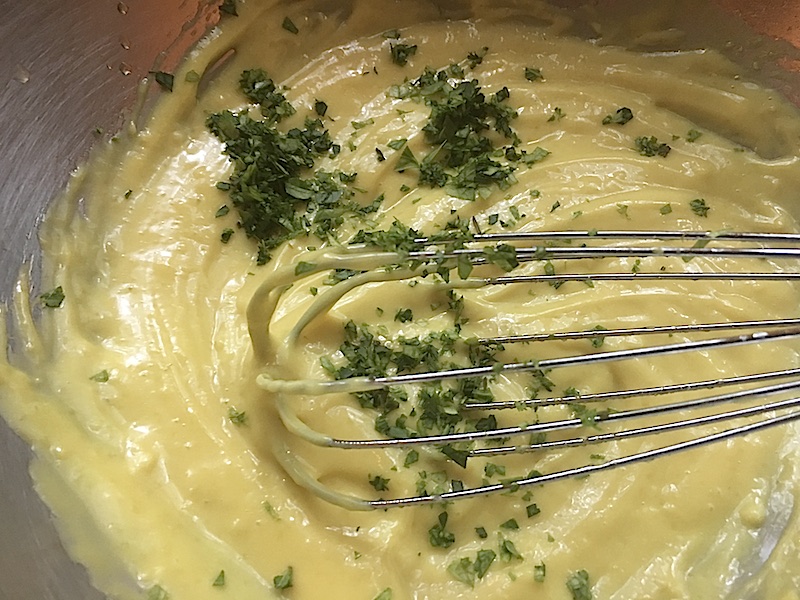 Add an egg yolk, a dollop of mustard, a finely chopped garlic clove and a splash of lemon juice to the bottom of a mixing bowl. Slowly drizzle  about a 1/2 cup of extra virgin olive oil (a drop at a time at first) while whisking rapidly until it begins to thicken
Add chopped fresh herbs such as parsley and basil and season with salt and pepper. Great to use on sandwiches, fish, chicken and salads.